Irish Setter Sighting…..
July 25th, 2010 by Gail
---
THERE IS A BEAUTILFUL QUILT BEING AUCTIONED ON EBAY  ~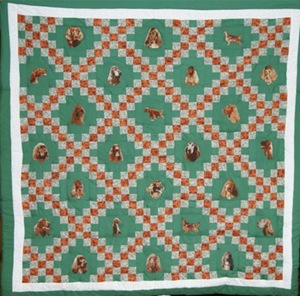 All proceeds go to the Irish Setter Club of Western New York Rescue fund.   Photos were donated to do the quilt from the Irish Setter Club of America Members.    Twenty four Photos were picked from the hundreds received *.   This was a difficult task as there were so many beautiful ones to choose from.  The club thanks everyone for their support in submitting them for this wonderful cause
The quilt is 58 1/2" square.  made from quilters cotton (pre-washed), fat (1" or so) polyester batting, broadcloth backing, rayon embroidery thread.  the top is machine pieced and machine embroidered.  the binding is a wrap-around from the backing, hand stitched.  it is tacked (comforter tied) with DMC embroidery thread…over 200 hand tied knots.  it took well over 60 hours to complete.
Many thanks go to Valerie Wroblewski aka "Annie Roo" for all her hard work on this quilt for this wonderful cause…….you are very much appreciated.
* Di & Keith Anderson's "Lincoln" made it on to the quilt!!! 
The ISCWNY rescue quilt is up and running on EBAY now.  Please check it out and place your bid.
This is the actual site:
http://cgi.ebay.com/ws/eBayISAPI.dll?ViewItem&item=110562579620&ru=
http%3A%2F%2Fshop.ebay.com%3A80%2F%3F_from%3DR40%26_trksid%3
Dm570%26_nkw%3D110562579620%26_fvi%3D1&_rdc=1