SHOW RESULTS as at 13 July 2014
July 13th, 2014 by Gail
---
We welcome and encourage ALL irish setter show results for publication – however when submitting please forward ALL awards :
i.e. DCC/BCC/BOB/RUBOB/Reserves/any IN GROUP/IN SHOW placements
______________________________________________________________________________________
As always, any errors are purely unintentional… please advise of any mistakes for correction

Thank you to all persons submitting show results and/or photos for publication
---
Sunday 13 July 2014
CANINE AMENITIES CLUB OF VICTORIA CHAMPIONSHIP SHOW
held at Bulla Exhibition Centre, Bulla, Victoria.   Judge : Mrs J Starkey (NSW)
DOG CHALLENGE/BEST OF BREED/BEST EXHIBIT IN GROUP

CH SOUTHBEACH HOT GENERATION (Sullivan)

BITCH CHALLENGE/RUNNER UP BEST OF BREED/AUST BRED IN GROUP

CH SOUTHBEACH SATIN DOLL (Sullivan)

Reserve Dog

EIREANNMADA RED RUM (Hearn)

Reserve Bitch

SUP CH EIREANNMADA QUEEN OF ROCK (Browne/Tyler)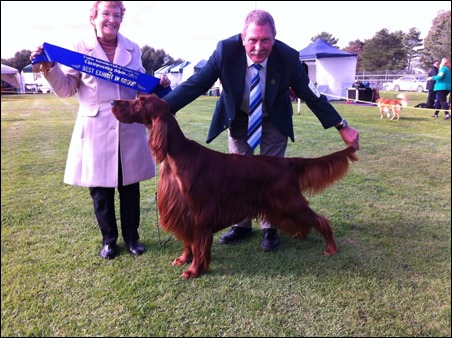 DOG CHALLENGE/BEST OF BREED/BEST EXHIBIT IN GROUP
CH SOUTHBEACH HOT GENERATION
.
Saturday, 12 July 2014
JUNIOR KENNEL CLUB CHAMPIONSHIP SHOW
held at KCC Park, Skye, Victoria.   Judge : Mrs L Richter (Sth Aust)
BEST OF BREED/BEST IN GROUP/BEST IN SHOW  

SUP CH EIREANNMADA QUEEN OF ROCK

DOG CHALLENGE/RUNNER UP BEST OF BREED/PUPPY IN GROUP

EIREANNMADA RED RUM (Hearn)

Reserve Dog

CH RHIANNON ONE FOR THE MONEY (Scott/Atkinson/Scott)

Reserve Bitch

PENDORIC GIRL ON FIRE (Hearn)
---
.