SHOW RESULTS as at 27 January 2019
January 27th, 2019 by Gail
---
We welcome and encourage ALL irish setter show results for publication – however when submitting please forward ALL awards :
i.e. DCC/BCC/BOB/RUBOB/Reserves/any IN GROUP/IN SHOW placements
---
As always, any errors are purely unintentional… please advise of any mistakes for correction
Thank you to all persons submitting show results and/or photos for publication
---
AUSTRALIA DAY HOLIDAY
Monday 28 January 2019
AUSTRALIA DAY INTERNATIONAL DOG CLUB CHAMPIONSHIP SHOW
held at Bulla Exhibition Centre, Bulla, Victoria.   Judge : Ms J Wang (China)
BITCH CHALLENGE/ BEST OF BREED

PENDORIC LADY IN RED (Hearn)

Reserve Bitch/RUNNER UP BEST OF BREED

CH PENDORIC MISS PEREWINKLE (Hearn)

DOG CHALLENGE

GLENGRAY SOUTHERN COMFORT AT BRODRUGGAN (Gray)

Reserve Dog

no other eligible
Sunday 27 January 2019
AUSTRALIA DAY INTERNATIONAL DOG CLUB CHAMPIONSHIP SHOW
held at Bulla Exhibition Centre, Bulla, Victoria.   Judge : Mr L Cabral Costa (Brazil)
DOG CHALLENGE/ BEST OF BREED

GLENGRAY SOUTHERN COMFORT AT BRODRUGGAN (Gray)

Reserve Dog/RUNNER UP BEST OF BREED

AM/CH SHADOWMERE'S SOUTHERN STAR AT BRODRUGGAN (IMP USA) (Stewart)
BITCH CHALLENGE

CH EIREAN TWELFTH OF NEVER (Anderson)

Reserve Bitch

no other

AUSTRALIA DAY
Saturday 26 January 2019
CRANBOURNE DOG CLUB CHAMPIONSHIP SHOW
held at KCC Park, Skye, Victoria.   Judge : Mrs T Ahlman-Stockmari (Finland)
BITCH CHALLENGE/ BEST OF BREED

PENDORIC LADY IN RED (Hearn)

DOG CHALLENGE/ RUNNER UP BEST OF BREED

CH JASPEREL DIVINE COMEDY (Robinson)

Reserve Dog

GR CH/HJCH GARDEN STAR'S IRISH TYSON (IMP HU) (Robinson)
Reserve Bitch

CH JASPEREL DIVINE CONTRADICTION (Robinson)

BABY PUPPY IN GROUP

EIREAN WAITING FOR ME (AI) (Anderson)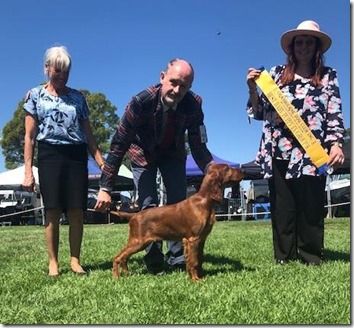 BABY PUPPY IN GROUP
EIREAN WAITING FOR ME (AI)
.

Friday 25 January 2019
BASS VALLEY KENNEL CLUB CHAMPIONSHIP SHOW
held at KCC Park, Skye, Victoria.   Judge : Mr N Deschuymere (Belgium)
(Heat policy invoked – Rescheduled to evening show)
DOG CHALLENGE/ BEST OF BREED/OPEN IN GROUP

AM/CH SHADOWMERE'S SOUTHERN STAR AT BRODRUGGAN (IMP USA) (Stewart)

BITCH CHALLENGE/RUNNER UP BEST OF BREED

CH EIREAN TWELFTH OF NEVER (Anderson)
Reserve Dog

no other

Reserve Bitch

no other 
.
---