SHOW RESULTS as at 10 January 2010
January 12th, 2010 by Gail
We welcome and encourage ALL irish setter show results for publication –
however when submitting please forward ALL awards :
i.e. DCC/BCC/BOB/RUBOB/Reserves/any IN GROUP/IN SHOW placements
______________________________________________________________________________________
Sunday, 10 January 2010
YARRA RANGES KENNEL CLUB CHAMPIONSHIP SHOW
held at KCC Park, Skye, Victoria.   Judge :  Mr O Toyokawa (Japan)
BITCH CHALLENGE/BEST OF BREED

CH RHIANNON RESPLENDENCE (Scott)

Reserve Bitch/RUNNER UP BEST OF BREED

CH PENDORIC PLAYN WIV THYME (Hearn)

DOG CHALLENGE

EIREAN FROZEN DREAM (AI) (Anderson)

Reserve Dog/MINOR PUPPY IN GROUP

EIREANNMADA PARADISE LOST (AI) (Browne/Hunt)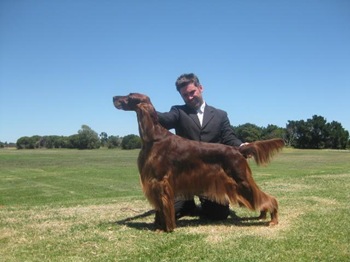 Best Of Breed –
CH RHIANNON RESPLENDENCE 
.
Saturday, 9 January 2010
SOUTH EASTERN KENNEL CLUB CHAMPIONSHIP SHOW
held at KCC Park, Skye, Victoria.   Judge :  Col K Roy (Pakistan)
BITCH CHALLENGE/BEST OF BREED/RUNNER UP IN GROUP

CH EIREANNMADA QUEEN OF ROCK (Browne/Tyler)

DOG CHALLENGE/RUNNER UP BEST OF BREED/AUST BRED IN GROUP

EIREAN FROZEN DREAM (AI) (Anderson)

Reserve Dog

EIREANNMADA PARADISE LOST (AI) (Browne/Hunt)

Reserve Bitch

CH RHIANNON RESPLENDENCE (Scott)
.
Friday, evening twilight, 8 January 2010
SOUTH EASTERN KENNEL CLUB CHAMPIONSHIP SHOW
held at KCC Park, Skye, Victoria.   Judge :  Mr C Weng Woh (Malaysia)
DOG CHALLENGE/BEST OF BREED

EIREAN FROZEN DREAM (AI) (Anderson)

BITCH CHALLENGE/RUNNER UP BEST OF BREED

CH RHIANNON RESPLENDENCE (Scott)

Reserve Dog/MINOR PUPPY IN GROUP

EIREANNMADA PARADISE LOST (AI) (Browne/Hunt)

Reserve Bitch

CH EIREANNMADA QUEEN OF ROCK (Browne/Tyler)

 
---
As always, any errors are purely unintentional… please advise of any mistakes for correction
Thank you to all persons submitting show results and/or photos for publication
---