SHELOMITH Irish Setters
---
SHELOMITH
a small kennel set in the beautiful island state of Tasmania (far southern Australia) specialising in irish setters of style and quality, with temperament being of the utmost importance, designed to grace the lifestyle of their companions….. always breeding animals in the hope they will enhance the breed.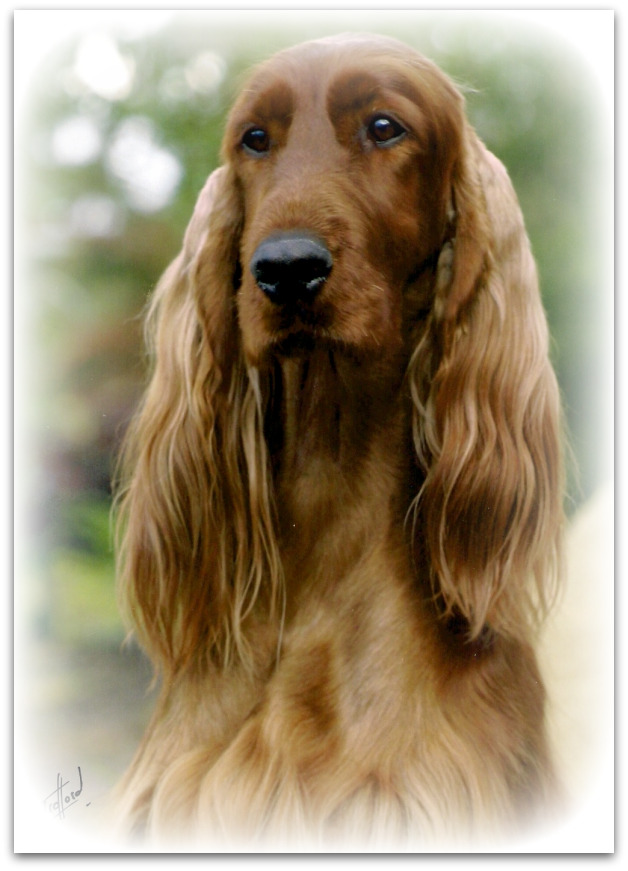 Edyth Langham-Goodwin OAM – A little about the Breeder
.
.
Apart from Edyth's passion for the irish setter breed, she is an avid thoroughbred horse breeder who enjoys the 'Sport of Kings' almost as much as attending a dog show.  (However, because of her commitments of being a committee woman for the Tasmania Racing Club, she frequently misses attending the main irish dog show event of the year (Irish Setter Club of Victoria) as the date now conflicts with major racing calendar in Australia)
A self confessed gardening enthusiast, she is frequently photographed in her blossom filled garden – more often than not, with an irish setter at foot.
Herself a tireless worker for a political party over many years,  she now assists greatly with the career of State politician daughter, Vanessa Goodwin, a doctor of criminology.
In the Australian Honours 2006 list, Edyth was awarded the Medal of the Order of Australia (OAM) the following is the official announcement:
Edyth McWilliam LANGHAM-GOODWIN
Medal of the Order of Australia (OAM)
Citation
: For the service to business and commerce, particularly through promoting the role of women,
to canine and equestrian sports, and to the community.
Date received: 12 June 2006
.

.
The SHELOMITH Story
Edyth's parents began her life-long love affair with the irish setter breed. She arrived home in the arms of her mother from her birth hospital to be greeted by her parent's dog, Stewarton Michael, in 1936. Shortly after two of Edyth's uncles also acquired litter brothers of Michael. All these dogs were exhibited – Michael with great success. He was also 'trained to the gun'.

Very soon after, Edyth owned her very own dog – a son of Michael, who was shown occasionally. However, her first irish setter champion was Ch Athleshan Deidre O'Shea who was exhibited extensively (gaining her title in 1956) including taking out Best of Breed at Hobart Royal.

This bitch, better known as "Lindy Lou", was well known in Tasmania. Her story appeared weekly in a newspaper column in Pets Corner titled 'Bringing Up Lindy Lou'. Her show career and progress written by her schoolgirl owner was excellent publicity for the Irish Setters in Tasmania.
Later Aust Ch Phaibryrne Fascination followed.  she was a daughter of Ch Wendover Gleamer (Imp UK) who produced some lovely stock including Ch Baidsire Bainon (Ch Whernside Winlough – Shelomith Caprice).
It was around this time the Irish Setter Club of Victoria was formed and Edyth was a founding member.
Edyth's eye was then taken by progeny from Ch Tatlow Irish Memory and knew that was the line for Shelomith to follow.
The arrival of Braidon Allegra, a daughter of Memory by Ch Patrona irish Laird, started the dynasty with individuals winning in most States of Australia.  Combining with Ch Taraglen Achilles an excellent litter including two lovely bitches who were destined to have a strong influence on the breed by producing champions for both Taraglen Irish Setters in Melbourne and Shelomith.  From her line – a long list of top winning irish setters including :  Ch Taraglen Touch of Class, Ch Taraglen Entrechat, Ch Taraglen Jessayme, Ch Shelomith Interlude, Ch Shelomith Isabella, Ch Shelomith Quest, Ch Shelomith Justine Oola, Ch Taraglen Tamsin.
With the American imported irish setters, Shelomith bred to Robalee Yank (Imp USA) and Ch Seregon Second Coming (Imp USA) another crop of famous dogs began their show career:
Ch Shelomith Rich Gift. Ch Shelomith Rhapsody, Ch Shelomith Razzamatazz and
Ch Shelomith Renaissance owned by Keith McCarthy (TARAGLEN Irish Setters) who would probably be the one most would remember.
.

CH SHELOMITH RENAISSANCE
Robbie was owned by Keith McCarthy (TARAGLEN IRISH SETTERS)
and was very successfully campaigned during the 1980's
In more recent years, Edyth's eye was drawn to a litter of puppies bred from dogs she had long admired and she acquired Ch Tullane At Eicol Dot Com from Paul & Sasha Middleton (DUNLOE Irish Setters) & Carrie Paine (TULLANE Irish Setters),  "Dotti" arrived home to Tasmania with a new name "Charlotte" and continued a most successful show career.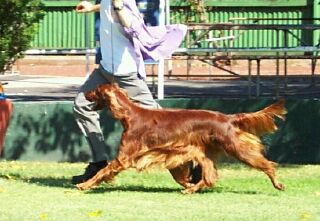 CH TULLANE AT EICOL DOT COM
Dotti/Charlotte moving….
.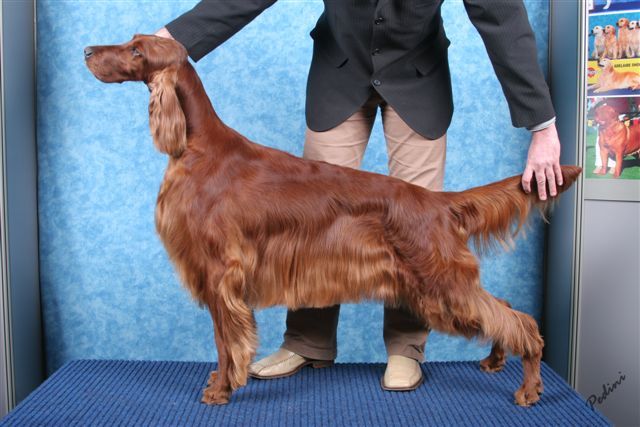 The most recent litter (bred in 2004) at SHELOMITH was to Charlotte – CH TULLANE AT EICOL DOT COM by Charles – AUST & NZ CH EIREANNMADA PRINCE O WALES, who was a successful blend of American and English lines, bred by Greg Browne (EIREANNMADA).
This exciting litter produced four champions –
Hugo – Supreme Ch Shelomith Vice Regent (co-owned with Gail & David Cleland and Greg Browne in Victoria),

Rossi – Ch Shelomith Valentino (owned by Carrie Paine – TULLANE Irish Setters in Canberra),

Portia – Ch Shelomith Veiled Threat (co-owned through show career by Lyn & Jess Craig of Victoria) and


Verity – Ch Shelomith Victorious (co owned in Tasmania with handlers Rex & Ros Lowe)
Like sister, Shelomith Very Merry (owned by Greg Browne – EIREANNMADA) who has proven her worth as a brood bitch, the home owned Verity will be mated in 2010 … exciting times are still ahead!
for photographs of these dogs please go to FAMILY ALBUM page
.
Currently in the Ring
Presently, continuing carrying the SHELOMITH flag in the ring are Ch Shelomith Victorious in Tasmania, with the occasional trip to Victoria to compete at the highest level at the Royal Melbourne Show and Grand Ch Shelomith Vice Regent a best in show winning dog, who has recently taken out the Irish Setter Club of Victoria's Dog of the Year for the third time.
.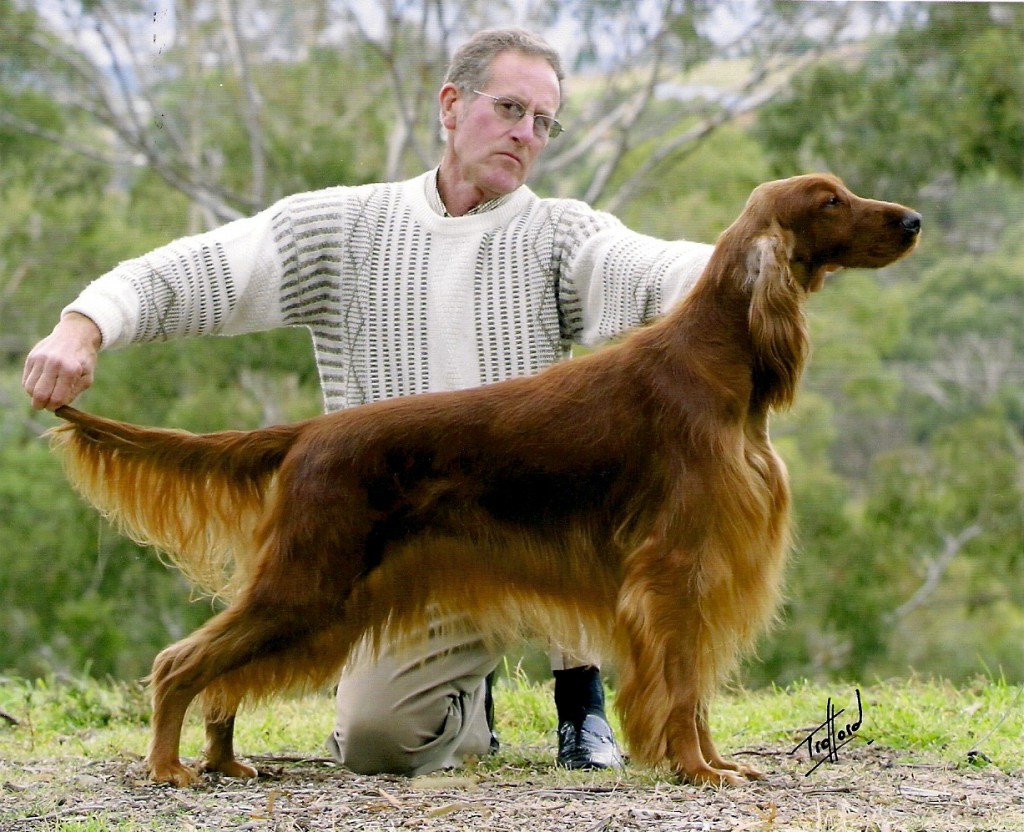 Edyth of SHELOMITH musings…
Undoubtedly, the major influence on the breed over all these years would have been TATLOW and PARRY LEYN lines.  So many successful breeders based their breeding program on animals from these kennels – as we did here at SHELOMITH.
Gone are the days where the irish setter was one of the most popular breeds of the day, with the resulting problems such popularity brings.  I heartily approve of today's ongoing progress in improving the health issues such as PRA, HD, CLAD, etc. within the breed.

I don't believe there has been a massive change in type over the years, however, more glamour – especially in coats and presentation – is evident (which I believe is extremely important for the show ring) … but certainly not at the expense of the correct construction!
For me, though, the irish setter's "caramel" expression, true irish personality (one of fun & gentleness), exemplary temperament (one ideal for raising children) are paramount in MY irish setter

---
---
.
Photo Gallery of SHELOMITH
.
CH SHELOMITH VICTORIOUS
Verity is currently being campaigned in Tasmania by co-owner Rex Lowe
.
---

       New Arrivals  ~    *** show prospects still available ***
Ch Gwyndara New Sensation –  Ch Shelomith Victorious
born :  2 May 2012
SHELOMITH X
CH GWYNDARA NEW SENSATION
CH GWYNDARA ONE MAN SHOW
AM CH WATERFORD SHOW OFF (USA)
CH GWYNDARA LA VIDA LOCA
CH DUNLOE ORIGINAL SIN
CH EIREANNMADA ODE TO AUTUMN (IID)
CH TULLANE WHYTWOKAY OKAY
CH SHELOMITH VICTORIOUS
NZ CH & CH EIREANNMADA PRINCE O WALES
EIREANNMADA WINDSOR
EIREANNMADA EXCLUSIVE
CH TULLANE ATEICOL DOT COM
GRAND CH TULLANE FIERY THYME
AM, CAN, AUST CH TULLANE THESIS BY DESIGN
Pedigree generated by PedigreeQuery.com
.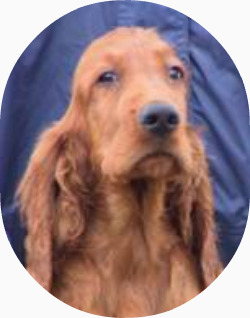 Edyth  LANGHAM-GOODWIN OAM

SHELOMITH
Shelomith Drive
Cambridge,  Tasmania, 7170
Telephone : +61 3 62 485465
♣