Rufus Desmond Cleland
---
Foxhound – Australian Terrier Cross
Date of Birth – Unknown – but given Guy Fawkes Day (5 November) because he was a "cracker" of a dog
Originally owned by next door neighbours – but they left him to fend for himself when they went away…
Then owned by the Cleland family
When I first met Rufus he was referred to by the family as "the dog".  As in "take the dog for a walk", "feed the dog", etc.   My concern at his very tough upbringing by the family who abandoned him seemingly won me a special place in this little dog's heart.  He befriended me with utter devotion when I first joined David and his family, I think, because I called him by his name. 
In fact, it was apparent he felt his name was somewhat shorter than his pedigree irish setter friends' names …. so we 'enhanced' it – we gave him David's mate's middle name (Desmond)….. It certainly sounds like it fits a special dog, don't you think?

As we all spent more time together, it wasn't long before he believed he was an irish setter!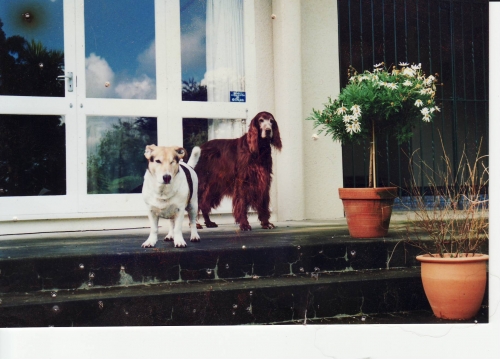 Rufus & Ch Eireannmada Pastina living together in New Zealand
Out of all the irish he spent time with Tina (Ch Eireannmada Pastina) was his very best friend … they even travelled overseas together!
When he was around 12 years old,  it was necessary to have Rufus' eye removed because of melanoma in the iris. It was interesting to see that Tina would always stand on his blind side and he trusted her as his guide.  They became inseparable.
He was the size of a beagle; had very short legs; had only one eye, no knackers(!) and a question-mark for a tail – but his personality was huge……
He would grin the biggest smile if he had done something wrong – and when he hadn't done something wrong too!
…… He was a fun dog
Tina aged 11 & Rufus aged 13 romping together (again)
– Pedigree –

Rufus Desmond Cleland
Sire
That rotten foxhound who was always out in the street
Sire
Unknown
Sire

Dam

Dam
Unknown
Sire

Dam

Dam
Chinnie Santo
Sire
Chinnie's Dad
Sire

Dam

Dam
Chinnie's Mum
Sire

Dam