Aust Grand Ch Eireannmada at Harvard (Harvey)
---
Ch Meadowlarks Energizer (Imp USA) – Eireannmada Irish Whimsy
Date of Birth : 16 March 1993 – 1 February 2005
Tested Clear PRA & CLAD. Hips Score 3:4
(Frozen Semen available in Aust & USA)
.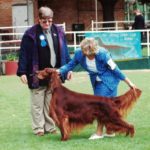 (The above picture taken – in the rain! – at age 9 years )
Winning Res DCC & Best Veteran In Show
at Irish Setter Club of Victoria's 40th Anniversary Championship Show
Judge : Mr Ian Grant (Ankara Irish Setters)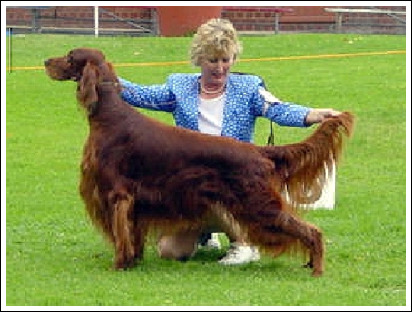 Harv was very proudly co-owned by David & Gail Cleland & Greg Browne (Eireannmada)
Harvard was a most handsome and elegant aristocrat displaying dignity (with just a hint of humour) at all times.
In the show ring he was acknowledged as a free-flowing, big moving dog. His legacy is his outline (both head & body) – striking and refined – which most of his progeny inherit. A long lean headpiece displaying correct planes, brow, chiselling and well-defined occiput was admired by many.
As a Best In Show show dog, Harv was appreciated by most Gundog & Setter Specialist Judges. He is another of my boys to achieve the honour of being the Irish Setter Club of Victoria's Dog of the Year for 3 years running – 1998, 1999 & 2000.
As the years pass, we find we are now following the careers of his grandsons and daughters – here in Australia and overseas – in the various categories of dog sport: conformation showing, obedience and agility*
We are fortunate to have frozen semen stored here in Australia and in USA.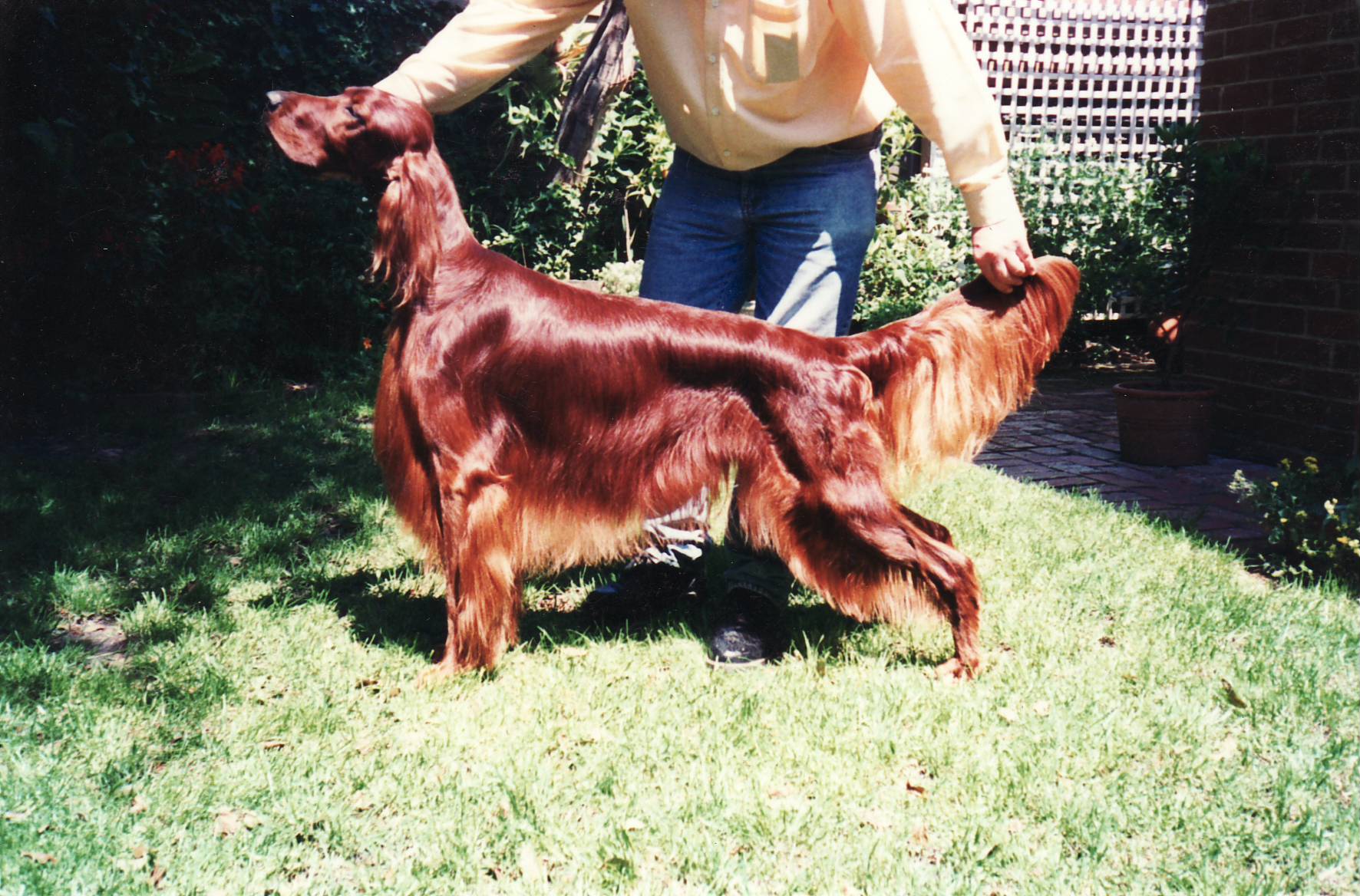 18 mth old At Harvard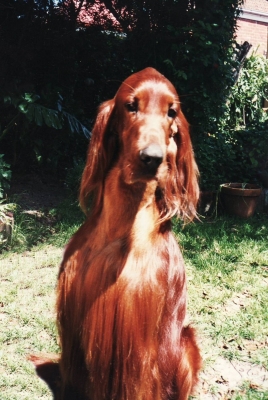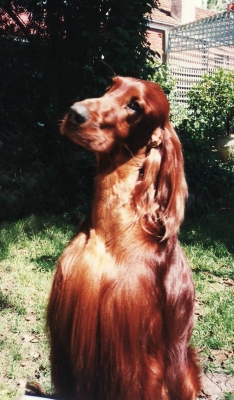 .
CH Meadowlarks Energizer (Imp USA)
AM CH Meadowlarks Vindicator
AM CH Meadowlarks Intrepid
CH Meadowlarks Masterpiece
CH Meadowlarks Interlude
CH Meadowlarks Magical Mirage
CH Shawnee Pipedream O'Charlton
CH Meadowlarks Moonlight Magic
Meadowlarks Solitare
AM CH Meadowlarks Anticipation
CH Candia Indeed
CH Tirvelda Meadowlarks Ebbtide
AM CH Meadowlarks Enchantment
CH Tirvelda Meadowlarks Encore
Glen Cree Merriment
Eireannmada Irish Whimsy
Eireannmada Wells Fargo
AUST CH & NZ CH Eireannmada Montana
CH Eireannmada Arizona
Wellgate Wednesday
Charlton's Marigold
Courtwood Cavelier
CH Charlton's Indeed I Do
Eireannmada Star Light
Redstone Oakley
NZ CH Ballymoss O'Carrig
Cornevon Spring Frolic
CH Eireannmada Hi Jinx
AUST CH & NZ CH Eireannmada Montana
Eireannmada O'Cashel
Harv was a wonderful showman and did not appreciate being retired (at almost 10) from exhibition. Frequently we organised "lunchtime shows" where we would let him run around with a few dogs and a judge would always place him first! He loved the attention…..
THE VETERAN
They say I'm a Veteran as I'm old and grey
but don't you remember…? I did have my day
I was a showdog once, so bold and proud
Oh, I can hear it now – the applause of the crowd!
I'm gentle and patient with puppies I see
But of course – aren't they all sired by me?
The father of Champions, there are a few
Look at my pedigree, grandchildren too
I sleep a lot now, on couch or in sun
and dream of the Shows – and prizes I won
I still love to go out for a ride in the car
Or a walk up the road, long as it's not too far
My legs are tired and my joints get sore
Hey, Woof! Who's that at the doot
And so, as a much loved pet and life-long friend
I have no fear of that fateful end.
(Author Unknown)
…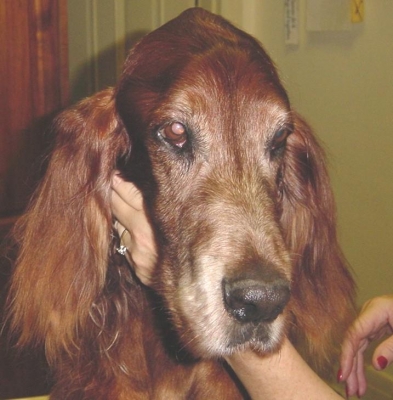 ..