Aust Ch Eireannmada Pastina (Tina)
---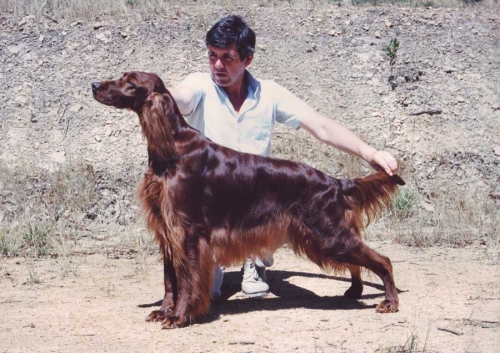 NZ & Aust Ch Eireannmada Montana – Eireannmada O'Temora
Date of Birth: 1 June 1981 – 17 March 1996
Tina was bred and owned by Greg Browne (Eireannmada) with the able assistance of  Ros Kelynack
ut cared and loved by David & Gail Cleland for 10 years
~~~
.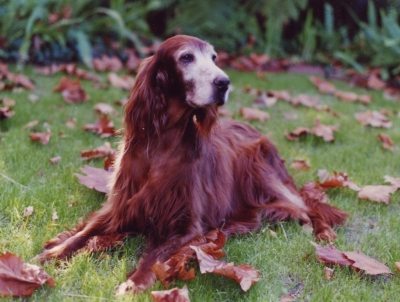 .
~~~
.
UST CH & NZ CH Eireannmada Montana
CH Eireannmada Arizona
CH Quailmoor Faustus
Ch Ballina Of Irish Flame
Wellgate Wednesday
CH Quailmoor Royal Leason
Wellgate Cassandra
Eireannmada Otemora
NZ CH Ballymoss O'Carrig
NZ CH Wendover Garry Of Acres
NZ CH Wendover Sontana
Eireannmada Hannah
Ch Parr Leyn Irish Shanis
Ch Ballina Of Irish Flame
.
Tina came to live with us after her very successful showing days were over, however, she is fondly remembered as being a "Royal" girl – she was a multi Royal Challenge winner.
The famous Mr Roy Jerome (USA) awarded Tina one of her most memorable wins – Best In Group (Group 1) and on to Runner Up Best In Show at the Sunshine Kennel Club in 1983.
She is the dam of Aust Ch Eireannmada Act O Defiance CD, CDX, UD, ET, TD a National Best in Show & Best in Obedience Trial Winner who also acquired his Endurance and Tracking Titles.
As a youngster she had the reputation of being a sheep chaser (not good in Australia!) and in her dotage she was referred to as "Queen Tina".  She was very much an aristocrat in her disposition, however, also possessed a very wicked sense of humour!   (see Rufus Desmond Cleland page for more informal photos of Tina)
…