Aust Ch Eireannmada Joie De Vivre ET (Cielo)
---
Devlin Marco Polo at Eireannmada (Imp USA)  – Eireannmada Wild Honey
Date of Birth : 3 April 2008
Bred By : Greg Browne
Owned by : Jan Robinson & Greg Browne
.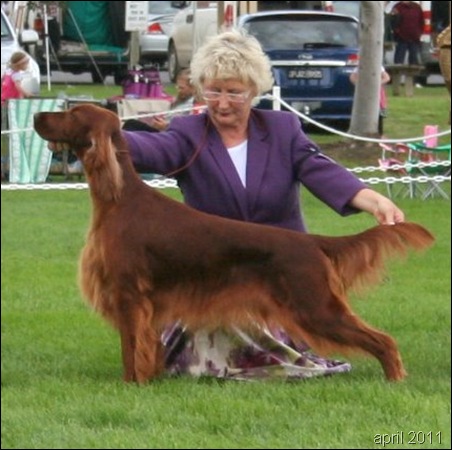 Cielo is Jan's first showdog and she has experienced a wonderful journey whilst handling this lovely young lady to her Australian Championship title.  From the thrilling start, as a seven month old puppy when she was awarded the Bitch Challenge & RUNNER UP BEST IN SHOW & Minor Puppy In Show at the 2008 Irish Setter Club of Victoria's Championship Show, she has continued her successful career which has been studded with In Group and In Show awards.
After gaining her championship title, Cielo & Jan embarked on a mission:  to gain her Endurance Test title.   After a drama filled attempt in July 2011 (don't ask .. but there were ducks involved!) both the girls completed the 20 kilometre run (handlers may jog or ride a bike) safely and fulfilled.
.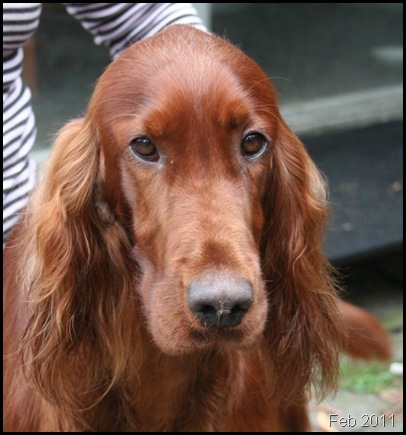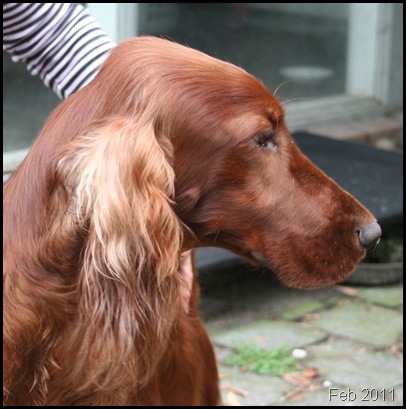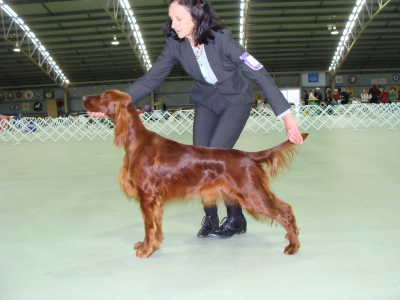 Cielo taking out Junior in Group – July 2009
(with owner Jan Robinson handling)
.
Cielo now 1 year old
CIELO  has another lovely win……….
BEST MINOR PUPPY IN SHOW
at KILMORE KENNEL CLUB CHAMPIONSHIP SHOW on Sunday 21 December
Judge: Mr C Rodgers (New Zealand)
Eireannmada Joie De Vivre (Cielo) with Dr Gillian Robinson handling
Newsflash!!!!
THANKYOU
to Judge Mrs Debbie Davis from USA
for awarding Cielo
BITCH CHALLENGE
&
RUNNER UP BEST IN SHOW
&
MINOR PUPPY IN SHOW
at
2008 IRISH SETTER CLUB OF VICTORIA'S CHAMPIONSHIP SHOW
.
A well earned rest…
.
Cielo on the move
What a little star this one is…….  she's very outgoing with a super attitude and already the judges are pointing at her.
Her taste in 'men' is apparent too – she loves to flirt outrageously with House and Hugo!
For further enqiries :
Jan Robinson,
45 Oakhill Road West,
Pearcedale, 3912.
Telephone: 03 5978 7376,