Eireannmada House Arrest (House)
Aust & NZ Ch Eireannmada Prince O Wales – Eireannmada Aragon
Date of Birth : 5 July 2006 – 21 August 2017
Genetically clear PRA & CLAD
Owned by David & Gail Cleland & Greg Browne (Eireannmada Kennels)
---

.
.
Since arriving here as a 'visitor' House has made himself very much at home and is now definitely a permanent member of the family. He has an endearing personality.. sometimes bold, sometimes gentle and soft .. but always loving. He is too clever for his own good and frequently surprises us with antics he has adopted just from observation.
He has a repertoire of gags (he sees himself as a comedian) and his "Sit. Drop. Bang. You're Dead" is hilarious! (because his tail won't stay still !).
He is a very handsome 4 year old lad who, with his beautiful dark flowing coat, would catch the eye of many a person – Who would believe he doesn't care for the showring?
However, more recently he has been enjoying the limelight as the central figure in our "All About House" photo shoots. (Please see below)
---
HERE IN THIS HOUSE
Here in this house…

I will never know the loneliness I hear in the barks of the other dogs 'out there'.

I can sleep soundly, assured that when I wake my world will not have changed.

I will never know hunger, or the fear of not knowing if I'll eat.

I will not shiver in the cold, or grow weary from the heat.

I will feel the sun's heat, and the rain's coolness, and be allowed to smell all that can reach my nose.

My fur will shine, and never be dirty or matted.

Here in this house…

There will be an effort to communicate with me on my level.

I will be talked to and, even if I don't understand, I can enjoy the warmth of the words.

I will be given a name so that I may know who I am among many.

My name will be used in joy, and I will love the sound of it!

Here in this house…

I will never be a substitute for anything I am not.

I will never be used to improve peoples' images of themselves.

I will be loved because I am who I am, not someone's idea of who I should be.

I will never suffer for someone's anger, impatience, or stupidity.

I will be taught all the things I need to know to be loved by all.

If I do not learn my lessons well, they will look to my teacher for blame.

Here in this house…

I can trust arms that hold, hands that touch… knowing that, no matter what they do, they do it for the good of me.

If I am ill, I will be doctored. If scared, I will be calmed. If sad, I will be cheered.

No matter what I look like, I will be considered beautiful and known to be of value.

I will never be cast out because I am too old, too ill, too unruly, or not cute enough.

My life is a responsibility, and not an afterthought.

I will learn that humans can almost, sometimes, be as kind and as fair as dogs.

Here in this house…

I will belong.

I will be home.
---
.

… All About House…
It started as a joke amongst a few friends….. how many 'house' names could we come up with?
After a group of us got together at a very rowdy and hilarious dinner, we discovered there were quite a few! Now we are attempting to bring them to realisation……
House photo for the week:
Previous House photos:
(Hold cursor on slideshow )
---
---
---
Having House around the home is fun …
All the dogs we have owned have been 'morning' people (perhaps with the exception of Homer, who really enjoyed his sleep) However, House is probably the most optimistic dog I know… He awakens each day from a deep sleep, springing to life like a Jack In a Box – and he has a big grin plastered over his face. His happiness is infectious.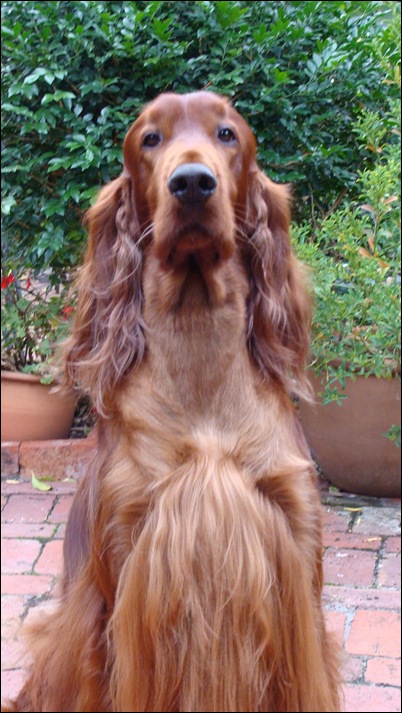 Eireannmada House Arrest
~ our very cheeky boy ~
House ~ at play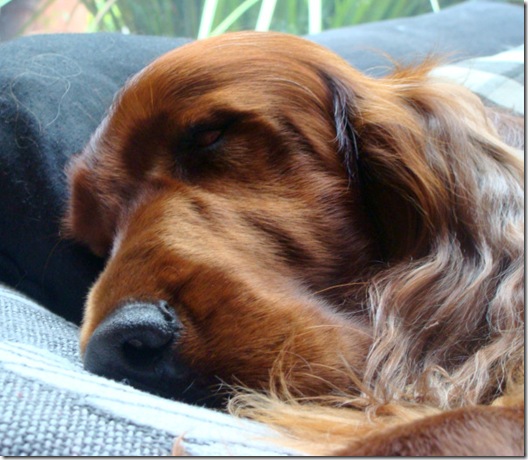 Eireannmada House Arrest
~ House VERY much at home ~
House came to stay with us to learn all about life while Greg was on an overseas trip (we House-sat!)
After more than a couple of years now we definitely have a House fixture!
House is almost 2 years old here (and still housebound!) is shaping up nicely
(... although we do need a more flattering photo)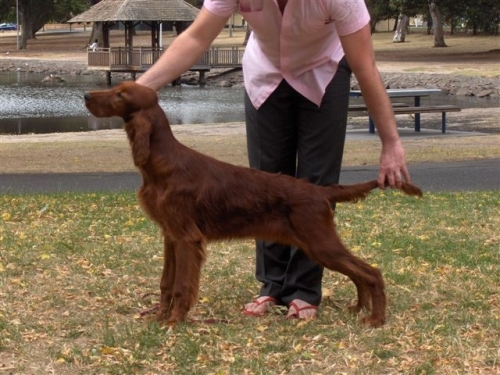 Sire Aust & NZ Ch Eireannmada Prince O Wales

Sire Eireannmada Windsor

Sire Gr Ch Martinridge Kiss O Fire
Dam Eireannmada Top Drawer (AI)
Dam Eireannmada Exclusive
Sire Ch Meadowlarks Energizer (Imp USA)
Dam Glengarley Nambalgair
Dam Eireannmada Aragon
Sire Eireannmada Windsor
Sire Gr Ch Martinridge Kiss O Fire
Dam Eireannmada Top Drawer
Dam Eireannmada Royal Flush
Sire Eireannmada Yosemite
Dam Eireannmada Ivy League