Ch Avon Farm Star Prophet At Absinthe
---
PROPHET
Aust Supreme Ch Shelomith Vice Regent x Ch Avon Farm Star Light
Born : July 2010
Bred By : Leslie Russell (Avon Farm Irish Setters) & Mary Ann Witt
Owned & Loved by John Hughes (Absinthe Irish Setters)
John decided to send the slow maturing Prophet out to shows to master ringcraft and gain the experience necessary for the future  … and along the way he managed accrue points towards his Championship title!
With a 2012 National Class win under his belt, we believe his best is yet to come ~
Prophet striking a pose and looking very much like his father….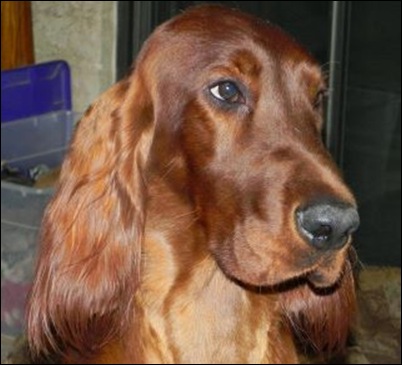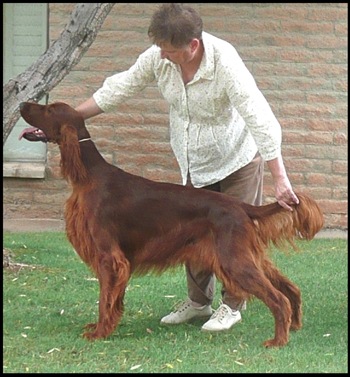 (A VERY VERY HOT day in August 2011)
GUILTY!

So I'm not supposed to rest my weary head on the Versace cushion?
What Versace cushion?   I don't even see a Versace cushion.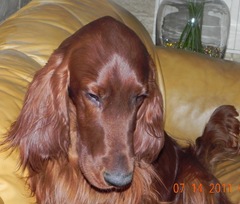 Oh my, what have I done? 

If I don't look, I won't even notice it….  
The young Prophet is maturing nicely and learning all about life (and showing) in Arizona, USA, while his owner John Hughes is constantly shaking his head in amazement at the antics of this boy.
(I admit this is the first photograph anyone has sent me of their dog's first 'leg lifting' experience!)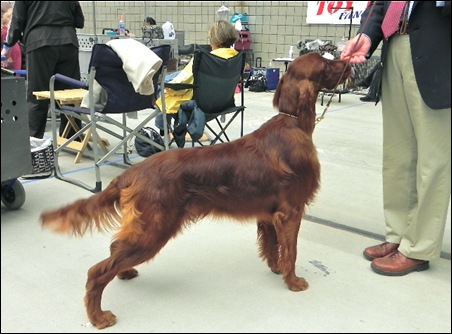 At only 9 months of age, Prophet started to take part in competitions and learned that showing is fun.
Owner, John Hughes, from Phoenix, Arizona, jokingly questioned :
"The Irish I use to own were never this intelligent.   So who bred in intelligence… and conceit, along with confidence?"
……. I confessed ~ Prophet is definitely a Hugo son!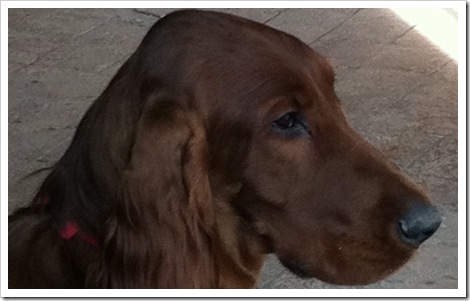 Photo taken at 8 months.
.