Aust Grand Ch Quailmoor Capucci (Grace)
---
Aust Grand Ch Eireannmada At Tulane – Ch Quailmoor Indian Summer
Date of Birth: 24 October 1995
Bred by : Norma Hamilton & Simon Briggs
Owned by : Jan & Vern Malloy – Shalloys Irish Setters
_____________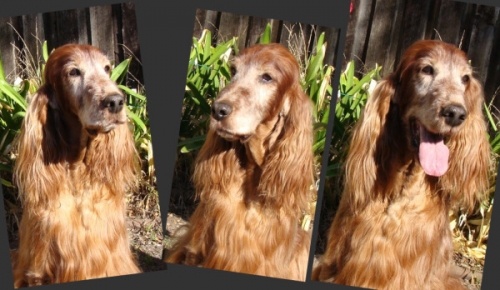 Grand Ch Quailmoor Capucci
Grace
(At nearly 14 years old)

Gr Ch Quailmoor Capucci
Grace has a special place in my heart and well deserves her place in my Family/Friends/Favourite section, for she is all of those to me.
She was exhibited in the same era as her uncle (Gr Ch Eireannmada At Harvard) and together they enjoyed an exceptional journey – where a special friendship between owners also endured.
Her record speaks for itself and Grace's show achievements ended with a list boasting some of the biggest wins any irish setter bitch has achieved including:
* The Irish Setter Club of Victoria's Bitch of the Year for 5 years:

– 2000, 2001, 2002, 2003 & 2004

* Royal Melbourne Show Bitch Challenge award for 3 years:

– 1999, 2000, 2002

* Irish Setter Club of Victoria's Championship Show

– Best In Show 1998,

– Runner Up Best in Show 2003 & 2005

…… For a little girl, she packs a huge punch!!!
A very 'happy snap' of a 12 year old Grace
___________________________________
Further enquiries to Owner:
Jan Malloy – Shalloys Irish Setters
Mickleham, Victoria, Australia
Telephone : 03 9745 2331
email : [email protected]