VALE
January 12th, 2010 by Gail

EIREANNMADA WINDSOR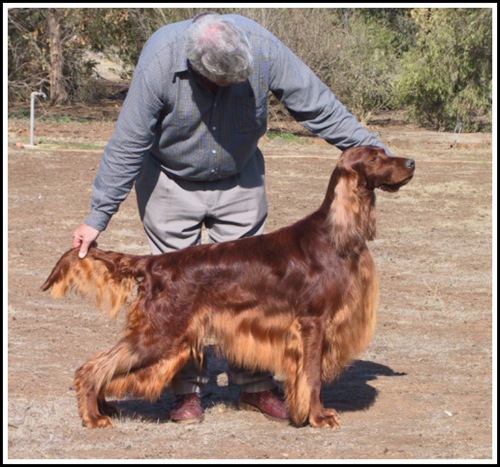 Gr Ch Martinridge Kiss O Fire – Eireannmada Top Drawer
27 February 1997 – 11 January 2010
Windsor was one of those dogs who was appreciated by people from all corners of the globe and  he was such an influential sire for Greg Browne (Eireannmada) and the late Dr Andrew Harwood (Wellgate)
His influence will live on through his sons and daughters, Charles, Isabella , Andrew & Mortimer, and their progeny and grand progeny around the world.
His pedigree and type was classic English lines, his head piece displaying qualities so typical of the English greats of the past.
Windsor was a dog who required absolutely no "stacking" – he simply stood perfectly balanced in his regal pose.  He never jumped up upon you without first asking with a gentle paw if it was OK to do so and then would gently place his feet upon you if invited.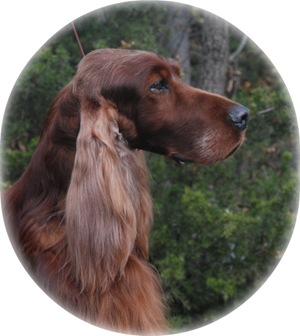 Greg is quoted :

Windsor was one of the most beautiful dogs I have bred and owned, a true regal Irish gentleman who was the epitome of classic Irish type who was loved by all who knew him.   RIP my dear friend
Gail is quoted :

There was always one dog in Greg's kennel I would covet but with whom he would never part ~ it was the most beautiful, and yes, incredibly regal Windsor.  Aptly named, his breeding had the best of Australian, New Zealand and famous UK kennel names Thendara, Bardonhill & Clonageera in his pedigree. 

It is with a truly sad heart I mourn the grandfather of both my Hugo (Gr Ch Shelomith Vice Regent) and House (Eireannmada House Arrest)

Greg Browne
Eireannmada Irish Setters
Toolernvale, Victoria.
Email: [email protected]
www.eireannmada.com
..