About Us – Gail Cleland & David Cleland
---
x
About Us
– Gail Cleland (previously Gardiner) & David Cleland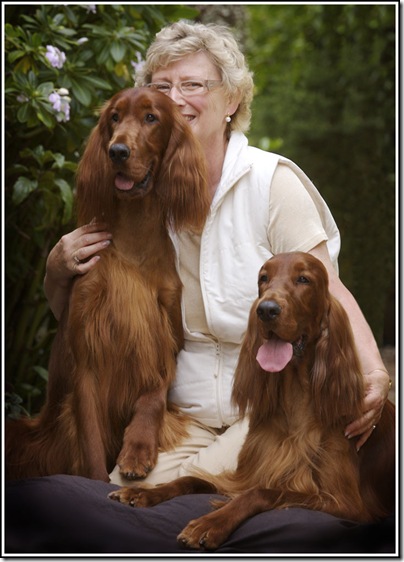 Gail with Eireannmada House Arrest  (House) left  and Grand Ch Shelomith Vice Regent (Hugo) right
.
We were both born and bred here in Australia. Until recently we lived in the seaside suburb of Elwood which is just a few kilometres from the Melbourne city central – the capital of the state of Victoria.  In June 2010 we moved from the bayside suburb and made a 'tree change' by moving to a property with 1 acre in Greenvale, north of Melbourne not far from Tullamarine International airport.
Inner-city living afforded David (my husband) & me a very social lifestyle where we enjoyed the local restaurants, theatres, shopping, beaches, parks.  Now we are situated in a suburb surrounded by freeways still giving us easy access to all roads in and around the city.  We are minutes (7 to be exact)  from one of the two main dog show facilities – an obvious plus to me – and a relatively short drive to the airstrip where David is a glider pilot and instructor.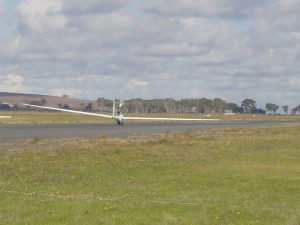 Gliding – David's passion
My interests, other than irish setters, include gardening, cooking/food & wines, Aussie Rules football (especially Brisbane Lions), cricket and horse racing.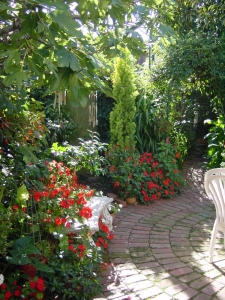 Gardening …….. my therapy!
David is now retired from his position as CEO & Managing Director of Davey Water Products which kept him rather busy over the years.  In semi-retirement, he is enjoying some non-executive director roles where he can utilize his talents.  Any other spare time he attempts to indulge his passion for flying.  His grandchildren are at the age where they are entertaining so he also enjoys spending time with 5 year olds!
I/we are financial members of:
Irish Setter Club of Victoria,
Irish Setter Association of NSW,
Irish Setter Club of America &
Irish Setter Association, England.
I have served on the committee of my  home State club, Irish Setter Club of Victoria, on many occasions over the past 35 odd years that I have been involved in the breed.   I have also contributed at All Breeds level, as show manager and on committee of  one of the premier all breeds clubs based in metropolitan Melbourne, Sunshine Kennel Club.
At present I am a member of the Promotions Committee of DogsVictoria where I assist a group of enthusiastic volunteers promote responsible ownership of purebred dogs.  Whilst working for the Kennel Control Council back in the 1970s I gained first hand experience and insight into dog administration and conducting canine fixtures.
Recently (September 2010) the Dogs Victoria Gazette – the official publication of the Victorian Canine Association – included a "Five Minutes with ….  Gail Cleland" which is a fun way of introducing committee members to the dog fraternity.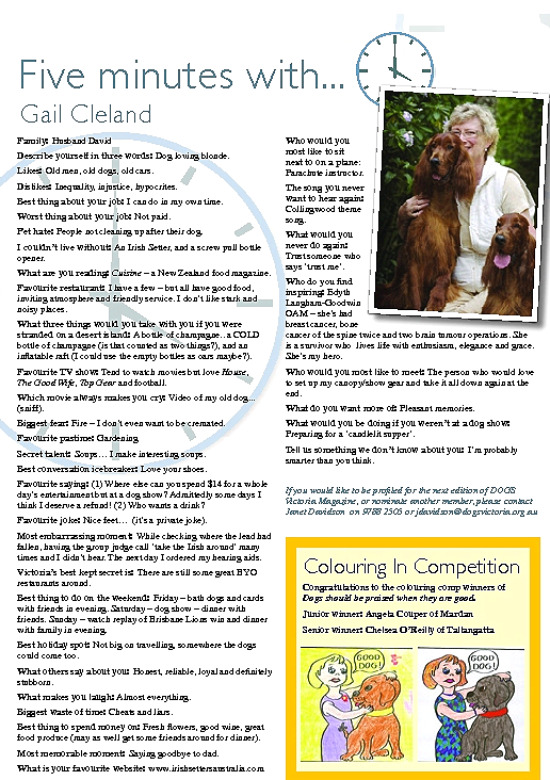 .
How I started
I was in my early twenties when I acquired my first two irish setter dogs.  They were litter brothers and they were born in 1974 (Ch Tamaleigh Tamarind & Tamaleigh Tellurian).  Originally acquired as purely companion dogs, I was persuaded by Barbara Watt (Mavang) and KCC Photographer, Max Neilson to enter Tamarind (Ty) in Show Competition.  With only basic obedience training, I entered Ty at the Irish Setter Club of Victoria's Championship Show in late 1978.  It was obvious to all my handling experience was nonexistent and before the end of the day fellow exhibitor, Peter Mangos (Tarralain), had offered to exhibit my dog.  Success was almost immediate.  In Peter's hands Ty acquired his Australian Championship in four shows (the minimum) by taking out four Best In Group Awards (Group1).  (Go to Ty's page for his story)
.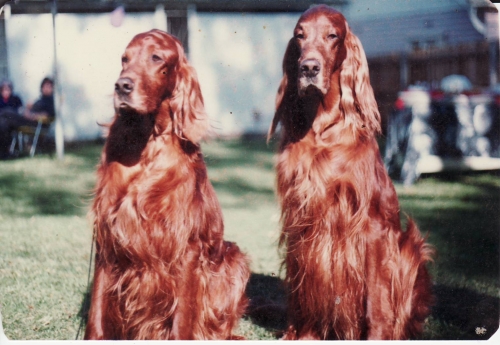 Tamaleigh Tellurian (Levi) on left and Ch Tamaleigh Tamarind (Ty) at their 10th Birthday party!
About my Irish Setters
Since owning my first irish setters, litter brothers Ch Tamaleigh Tamarind (Ty) & Tamaleigh Tellurian (Levi) , in 1974 I have always only run two (at the most 3) dogs at a time.
Needless to say , over the last 30+ years we have owned/co-owned/borrowed only 8 irish setters.
Let me introduce our dogs:
Ch Tamaleigh Tamarind  (Ty)                        –  successfully exhibited

Tamaleigh Tellurian (Levi)                             – not exhibited

Chazzaria Clementina (Tina 1)                      – borrowed and not exhibited (although pointed)

Rufus Desmond Cleland                                – not an irish setter – but he thought he was

Ch Eireannmada Pastina  (Tina too/two)       – retired to our home for her last 10 years

Grand Ch Eireannmada At Harvard (Harv)    – successfully exhibited

Ch Eireannmada Home Run  (Homer)            – successfully exhibited

Grand Ch Shelomith Vice Regent  (Hugo)*    – successfully being exhibited

Eireannmada House Arrest (House) *           – came to visit and stayed
* In residence at present
With humility (not!) I believe we've had the great privilege of owning some wonderful individuals.  Between the four show dogs I've campaigned  they can boast Multiple Best in Shows as well as  Multiple Victorian Irish Setter Club Dogs of the Year and a Melbourne Royal Show Best In Gundog Group along with 2 Grand Champions.   It's an enviable record for such a small group of dogs.
You can read more about each of these dogs on their respective pages.
Being Supermodels
It has been said the irish setter is the most beautiful of all dogs and therefore it is natural they would be in demand for the various advertising mediums.
Over the years our dogs have been featured in various television advertisements including Pedigree PAL & a car commercial;  on TV programs Burke's Backyard and Harry's Practice (as well as in his video);   in Herald/Sun newspaper and various publications – including a children's book based on an irish setter being the hero!;  a Louis Feraud fashion parade and a TV info-doc on natural therapies.
It has been much fun for us and the dogs –  with me (and others!) being able to recall a humorous story about each occasion.  However, best of all I believe the exposure of irish setters in a good light and fun circumstances has added to the perception the irish setter is, indeed, the supermodel of all the canine breeds.
…. without help
Over all the years we've had irish setters, especially during the dogs' show campaigns, I've been fortunate to have had the assistance of some very special people.
In Ty's day (30 years ago!) Peter Mangos (Tarralain) & Rob Raymer (Ivorycoast Afghans) were the handlers;  in Harv's time Greg Browne (Eireannmada) and James Weekes, who showed – very ably – when I broke my foot;  Jan Malloy (Shalloys) and James Weekes (and occasionally Jacqui Weekes (Melloway Cavaliers) and too) had the pleasure (!) of handling Homer;  earlier in Hugo's career Greg Browne and Ty Atkinson were often seen piloting Hugo around the ring.   I am thankful for their assistance and friendship – the irish setter breed certainly brings people together.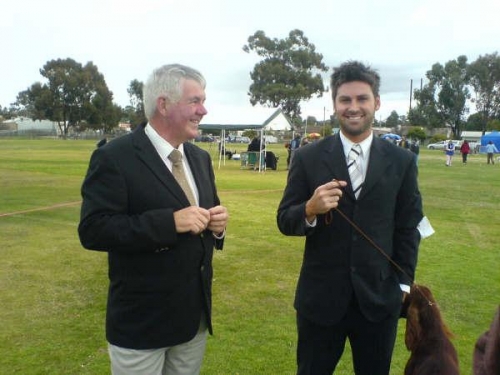 Greg Browne (Eireannmada) (left) and Ty Atkinson (Nauvoo)  …. with Hugo nearby
My Way
With all our dogs being "city slickers" our regimen is a daily free run at a local off leash park or beach, followed with a couple of shorter on leash walks during the day.    As urban dogs they overcome a wide range of  challenges on a daily basis. They learn the art of mingling with people from all walks of life (and believe me, we have a variety of them around this area!) and are alert to the different sounds of heavy traffic, trucks, trams and trains – even the screaming sounds of the Formula 1 Racing cars as the racetrack is a short distance away.   They also "enjoy" the age-old sport of "hunting" , for possums are a constant interest in our garden….. mostly the possums win, by the way.
I am an advocate of fresh food feeding (with more than the occasional treat) and work together with my veterinarian (Dr Ann Nevill)  who is also a trained chinese herbal therapist, in keeping my dogs healthy, sound and happy.  I utilise her skills in acupuncture for skeletal and general wellbeing health.  I also acknowledge the benefits to my dogs (especially as they age) of a human & animal chiropractor (Dr Brad Potter) and canine manipulator (the legendary George Schofield OAM).
It has been suggested by various sources that animals in my care are – should I say – spoilt.  Well, yes, I guess you could say that…… they become part of our family and our expectation is that they live and behave accordingly.  Usually, our irish are well mannered in their environment – perhaps, except for Homer,  who used to mug people when they arrived.   Our couches/sofas are adequate for both human and canine reclining!
.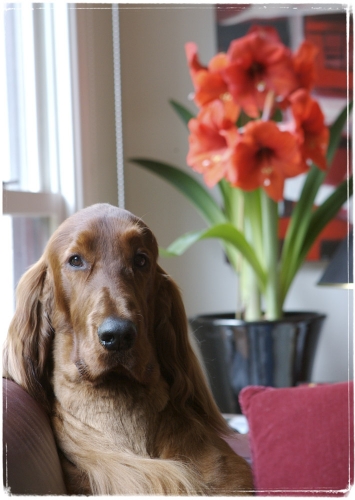 Hugo lounging about at home