About Irish Setters Australia
---
.
Irish Setters in Australia – A Brief History
Information as to when the first irish setters were registered in Australia is, at best, sketchy, however, there are records which state Champion Garry (Imported from UK) took dog first prize at 1889 Royal Melbourne Show.  He was owned by Mr James Dynon.  Bitch first prize was awarded to Ruby owned by Mr W Sargent.
Evidently there were only a few (approx 6) irish setters being exhibited during this time, however, by 1920 entries at the Royal Melbourne Show increased to 30 exhibits. The breed became even more popular during the 1930's and imports of the era included Eng & Aust Ch Marksman of Ide (Imp UK) who was bred by Mr J.H. Braddon.  His breeding with existing UK lines such as Hartsbourne and Wendover is the foundation of the Australian irish setters of today.
Breeders of note during the 40's and 50's include Yeoman/Orangegrove, Lambert/Tara, Thorn & Deane/Tatlow, Waldron/Colclough, Macdonald/Muriwai, Sinclair/Jilderndi. 
The 1960's saw the Irish Setter Club of Victoria founded and many of our respected breeders of today acquired their first irish setter during this period – Hamilton/Quailmoor, McCarthy/Taraglen, Watt/Mavang, Peggie/Carrbridge, Browne/Eireannmada were kennels of note.
Of course the 1970's and 80's was a period of immense popularity for the breed which, one could say, was bittersweet.
On the downside, so many pets were produced and placed in homes which could not provide the necessary care.  There was also the predicament of "uneducated breeders" who bred to make the quick dollar. During this time many health and personality problems were rife and I'm afraid we still live with the perception that irish setters are not happy and sound animals.
On the plus side, the caretakers of today's irish setter admit this is the time they became involved in the breed**.  It is to be commended that concerted measures to improve health and wellbeing over the last decade or two have taken place during their years at the helm.  True devotees insist hip xrays, testing for PRA & CLAD, are all performed before a dog is to be bred.   New breeding stock (or frozen semen) has been introduced, notably from UK, USA & New Zealand which has injected different lines into our pedigrees  (see Irish Setter Imports page).
The irish setter has always been a very successful performer in the showring and today's dog is no exception……. In fact, we are now finding overseas breeders are sourcing our dogs for showing and our breeding programmes to enhance their lines.   It is testament to the vigilance of those breeders who have made the effort and paid the price to improve the breed here in Australia.
These are exciting times….
.
  **   The author admits to acquiring her first two irish setters during this time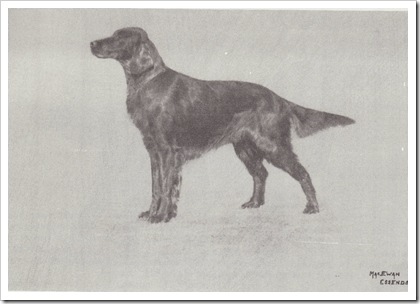 Eng & Aust Marksman of Ide (Imp UK)
.
Irish Setters – The Australian Way
As we only have a small population of breeders and exhibitors in Australia the majority of our showing is at All Breeds Championship Shows which are usually held weekly throughout the year – in the metropolitan area and some much smaller shows in the rural regions.  It is at these shows where we compete for challenge certificates towards our Australian Championship and/or Grand Championship.
Sadly these days, there are only two Irish Setter Specialty Clubs – The Irish Setter Club of Victoria and The Irish Setter Association of NSW, with their respective Championship (Specialty) Shows being held only once a year.  We do not have the amount of clubs necessary to qualify to hold a National Irish Setter Club any longer.
It would be fair to say that Victoria hosts the greater number of exhibitors and both the Irish Setter Club of  Victoria and the Royal Melbourne Show are generally considered the most prestigious (sorry NSW!)…. with entries at around 80 exhibits.  These shows usually qualify to award the maximum challenge points (25) towards a title.
Unlike America, we do not employ professional handlers.  We are generally "owner/handler" however, that is not to say we do not have some very gifted handlers.   In our small community it is pleasing to see competitors assisting fellow exhibitors should the need arise.
We have many Irish Setter specialist judges who are regularly engaged to officiate at overseas shows.  They, along with the many people who make overseas journeys to events around the world,  bring home with them a wealth of knowledge which they are willing to share.   Good, healthy discussions on their findings often makes us re-focus on our goal.
.
~~ Wellgate Marguerite ~~
(bred Dr Andrew Harwood – owned by Jan Robinson)
.
---
WE
are
proud
the
majority
of
breeders
and
owners
are
either
dna
testing
or
making
application
for
clearances
(via
tested
parents)
for
CLAD
and
PRA
XXX
XXX
XXX
XXX
XXX
XXX
XXX
XXX
XXX
XXX
XXX
XXX
XXX
XXX
XXX
XXX
XXX
XXX
XXX
XXX
XXX
XXX
XXX
XXX
XXX
XXX
XXX
.
Health Clearances List

IRISH SETTERS DNA TESTED CLEAR OF PRA
0001 CH. GWYNDARA WHOS THAT GIRL T.& L. JONES
0003 CH. RHIANNON RUBY ROSE D.& C. BAKER
0004 CH. GWYNDARA GEORGIE GIRL T.& L. JONES
0005 CH. GWYNDARA CHAIN REACTION T.& L. JONES
0006 CH. GWYNDARA JUST THE GIRL T.& L. JONES
0007 GRAND CH. GWYNDARA MONTPELIER (A.I.) T.& L. JONES
0008 CH. GWYNDARA WHISPERING JACK (A.I.) T.& L. JONES
0009 GRAND CH. GWYNDARA YOU WEAR IT WELL (A.I.) T.& L. JONES
0010 CH. RHIANNON GLORIANNA M. SCOTT
0011 EIREANNMADA IRISH WHIMSY G. BROWNE
0012 EIREANNMADA EXCLUSIVE G. BROWNE
0013 EIREANNMADA MARY MAGEE G. BROWNE
0014 EIREANNMADA ISADORABLE G. BROWNE
0015 CH. MEADOWLARKS ENERGIZER (IMP.U.S.A.) J.& J. GOSSAGE
0016 CH. EIREANNMADA ACT ODEFIANCE UD,TD,ET C. PAINE
0017 CH. ARDGLEN ALL SPICE C. PAINE
0018 GRAND CH. MARIGOLD BY THE WAY P.& B MARTIN
0019 CH. EIREANNMADA MATILDA P.& B. MARTIN
0020 CH. MARTINRIDGE FLAMINBEAUTY P.& B. MARTIN
0030 CH. CORRIMEALA CHARLEMAGNE M.& C. WHITE
0031 CORRIMEALA THE SUNBIRD M.& C. WHITE
0033 EIREANNMADA SHAMIRA P.& B. MARTIN
0039 GRAND CH. MARTINRIDGE PURE DELIGHT P.& B. MARTIN
0064 CH. HENALEAS MOONLIGHT OVER LIMAVARDY J. SMITH
0069 CH. TYNAGH TEQUILA SUNRISE K.& M. FULLER
0070 CH. WARAGANA FIELDS O FIRE M. BLOWERS
0074 GRAND CH. BRODRUGGAN FAR AND AWAY CD P. TIMMS
0081 SINGAPORE CH. MARTINRIDGE UPTO NO GOOD CHUA MING KOK
0097 CH. TARRALAIN CHAYNAL M. BLOWERS
0118 CH. PENDORIC IZY FORREAL L.& A. HEARN
0119 EIREANNMADA RED ECHO L.& A. HEARN
0128 CH. BURNSETT MADISON G. BROWNE
0129 NZ GR.CH. QUAILMOOR NOTORIOUS(IMP.AUST) C. CEDERMAN
0130 NZ CH. QUAILMOOR MARY QUANT(IMP.AUST) CEDERMAN/
ROBINSON
0131 NZ GRAND CH. LANASCOL WORK OF ART C. CEDERMAN
0132 NZ CH. LANASCOL YOU'RE SO VAIN J. MOFFAT
0134 CH. QUAILMOOR KISS MEKATE
0135 CH. BRODRUGGAN FUR ELISE
0136 CH. ROSSLARE FROMA DISTANCE (A.I.) P. FROST
0137 EIREANNMADA TOP CLASS (A.I.) P. BLAMIRE
0138 REDMANHEY MAEVE P. BLAMIRE
0139 TARAGLEN TOP GUN J.&E. BUCKLEY
0140 TARAGLEN AVRIL K. McCARTHY
0141 TARAGLEN TITIAN TESS K. McCARTHY
0142 TARAGLEN TOUR DE FORCE K. McCARTHY
0143 CH. TARAGLEN TREND SETTER K. McCARTHY
0144 CH. TARAGLEN TUDOR ROSE K. McCARTHY
0145 CH. QUAILMOOR CAPUCCI V.&J. MALLOY
0156 CH>EIREANNMADA HOME RUN CLELAND/BROWNE
0166 CH. QUAILMOOR NEWSFLASH P.MIDDLETON
N. HAMILTON
0167 CH. TULLANE THESIS BY DESIGN MIDDLETON/
PAINE
0180 CH. TARAGLEN VANGELLIS J.W. THOMPSON
0182 CH. GAILEAS TULLY O VALLA M.& A. POSFORD
0193 EIREANNMADA WINDSOR G. BROWNE
0209 EIREANNMADA TOP DRAWER (A.I.) G. BROWNE
0212 MARTINRIDGE SWEET DREAMS P.& B. MARTIN
0243 CH. BRECHINS EMERALD BREEZE BIRD/MCFARLANE
0244 CH. KILTIMAGH CELTIC MIST D.& J. BIRD
0245 CH. KILTIMAGH MAHOGANY MORN D.& J. BIRD
0257 WELLGATE DOROTHY A. HARWOOD
0258 WELLGATE GARRY OWEN A. HARWOOD
0259 WELLGATE ISABELLA A. HARWOOD
0260 WELLGATE MADISON A. HARWOOD
0261 WELLGATE WILD SPICE A. HARWOOD
0262 CH. PENDORIC RED RUSH S.G. UNDERWOOD
0263 CH. PENDORIC AFLAME S.G. UNDERWOOD
0264 CH. PENDORIC KISS UNDA FIRE L. COCHRANE
IRISH SETTERS DNA TESTED CARRIERS OF PRA
CR01 CH. LIMAVARDY HAPPY TALK J. SMITH
IRISH SETTERS DNA TESTED CLEAR OF PRA IN THE USA OR UK
0001 CH. GWYNDARA WHOS THAT GIRL (IR-000140) T.& L. JONES
0002 CH. MARIGOLD MAXIMUM DELIGHT(IR-000164) G. BROWNE
0021 AM.CH.SUNNYHILL WINGS OF THE WIND(IR-0099) KALMAR&KELL
0022 AM.CH. GWYNDARA SOUTHERN CROSS(IR- 000137) B.&G.RIEGLE
0034 AM.CH. SUNSHINES FIRST RATE (IR- K. WHITEIS
0035 SH. CH. TIMADON DEB'S DELIGHT MR/MRS.G.COUPE
0036 TIMADON DAWN FEVER MR/MRS.G.COUPE
0084 ENG.SH.CH. CASPIANS INTREPID J. LORIMER
0085 TYROCOLL FLYNN OF COMDERRY AT WENDOVER P. JAMES
0086 WENDOVER DRUSILLA P. JAMES
0117 AM.CH. MEADOWLARK'S FIRE 'N RAIN(IR-000125) HACKOS/JONES
0126 CH. TARAGLEN TALL POPPY K. McCARTHY
0211 MISTYMOORES AUTUMN MAGIC P. AUSTIN
0223 GRAND CH. IRISHMOOR KETARI V.& A. GRAY
0224 CH. GLENGRAY PENTELOPE V.& A. GRAY
0248 CH. BRODRUGGAN SYMPHONY D. FINLAYSON
0256 CH. BRODRUGGAN DRESDIN DOLL J. STEWART
IRISH SETTERS GENETICALLY CLEAR OF PRA
0023 AM.CH. GWYNDARA COLONIAL GIRL (A.I.) J.,G.& A.SAVORY
0024 AM.CH. DUNHOLM WINDSOR J.,G.& A. SAVORY
0025 AM.CH. DUNHOLM BALMORAL J.,G.& A. SAVORY
0026 GRAND CH. GWYNDARA GO IT ALONE (A.I.) RENWOOD&JONES
0027 GRAND CH. GWYNDARA TOTAL ECLIPSE (A.I.) T.& L. JONES
0028 CH. GWYNDARA HEARTS ON FIRE (A.I.) T.& L. JONES
0029 CH. GWYNDARA FLAMING HEART (A.I.) POSFORD/JONES
0032 CH. CORRIMEALA WINTER MELODY M.& C. WHITE
0037 CH. TIMADON PRIDE AND PREJUDICE J. STEWART
0038 CH. GWYNDARA BREAKING HEARTS (A.I.) GREEN/JONES
0040 GRAND CH. MARTINRIDGE KISS O FIRE P.& B. MARTIN
0041 GRAND CH. EIREANNMADA AT TULANE C. PAINE
0042 GRAND CH. TULLANE FIERY THYME C. PAINE
0043 GRAND CH. EIREANNMADA TIMES SQUARE B. MARTIN
0044 CH. MARTINRIDGE CAROUSEL P.& B. MARTIN
0045 CH. MARTINRIDGE CHARISMA P.& B. MARTIN
0046 MARTINRIDGE RAISING HELL P.& B. MARTIN
0047 CH. MARTINRIDGE VINTAGE CROP P.& B. MARTIN
0048 CH. MARTINRIDGE VICTORY WALTZ P.& B. MARTIN
0049 CH. MARTINRIDGE VANITY FAIR P.& B. MARTIN
0050 MARTINRIDGE EXCLUSIVE P.& B. MARTIN
0051 CH. MARTINRIDGE TANTALIZING P.& B. MARTIN
0052 AM. CH. GWYNDARA DOUBLE IMPACT G. SWANSON
0053 CH. GWYNDARA GOOD VIBRATIONS C.D. S.& G. FIELD
0054 GWYNDARA LA VIDA LOCA T.& L. JONES
0055 CH. RHIANNON DEVORGILLA M. SCOTT
0056 RHIANNON RED BUTTONS BAKER/SCOTT
0057 RHIANNON BALLYKISSANGEL J. CARLTON
0058 RHIANNON RAFFERTY G.&J.SYLVESTER
0059 CH. EIREANNMADA SANTA MONICA G. BROWNE
0060 AUST.&N.Z.CH. EIREANNMADA SEQUOIA G. BROWNE
0061 EIREANNMADA YOSEMITE G. BROWNE
0062 EIREANNMADA BALTIMORE G. BROWNE
0063 INDIAN CH. EIREANNMADA KINGSCANYON S. SHARMA
0065 LIMAVARDY INCANTATION J. SMITH
0066 CH. LIMAVARDY INFATUATION R.&L.GLEDHILL
0067 LIMAVARDY INCLINATION E.KENWORTHY
0068 LIMAVARDY INSTIGATOR J.& B. FRY
0071 SOLASDAS ON FIRE K. FULLER
0072 SOLASDAS DREAM BY FIRE M. BLOWERS
0073 CH. SOLASDAS DESERT FIRE J. MOY
0075 CORRIMEALA TRUMPET MAJOR M.& C. WHITE
0076 CORRIMEALA TAMBURLAINE M.& C. WHITE
0077 CORRIMEALA WINTERS TALE M.& C. WHITE
0078 CORRIMEALA VANITY FAIR M.& C. WHITE
0079 CORRIMEALA COUNTRY GIRL M.& C. WHITE
0080 CORRIMEALA PERSUASION M.& C. WHITE
0082 MARTINRIDGE WICKED WITCH P.& B. MARTIN
0083 MARTINRIDGE WILD WIND P.& B. MARTIN
0087 CH. WENDOVER CANE SUGAR BAIYAI KENNELS
0088 BAIYAI FEVER PITCH (A.I.) BAIYAI KENNELS
0089 BAIYAI VALIANT SCEPTRE (A.I.) I.&J.WILLINSKI
0090 CH. BAIYAI CUCHULAINN (A.I.) T. WHITE
0091 BAIYAI DEBONAIR MEGASTAR (A.I.) B. MILLER
0092 BAIYAI BEGGARMAN (A.I.) D. RUDORFER
0093 BAIYAI SCARLETT LADY (A.I.) W.& T. GATES
0094 CH. BAIYAI YGDRASIL (A.I.) BREEZEMORE KNL
0095 BAIYAI DEMERERA (A.I.) BAIYAI KENNELS
0096 BAIYAI AUTUMN JEWEL (A.I.) D.& K. ANDERSON
0098 GR.CH. EIREANNMADA AT HARVARD CLELAND/BROWNE
0099 CH. GWYNDARA EASTCOAST GIRL (A.I.) RENWOOD/JONES
0100 EIREANNMADA IVY LEAGUE G. BROWNE
0101 EIREANNMADA CLAREMONT G. BROWNE
0102 EIREANNMADA SOUTHN BELLE G. JAMES
0103 N.Z. CH. EIREANNMADA MAYFLOWER L.& D. EMMS
0104 EIREANNMADA MISS KITTY (A.I.) R. ANSETT
0105 CH. EIREANNMADA FT RILEY (A.I.) BROWNE/ATKINSON
0106 EIREANNMADA SALINA (A.I.) G. BROWNE
0107 EIREANNMADA ROYAL FLUSH G. BROWNE
0108 CH. EIREANNMADA RHETORIC M. BRIGGS
0109 EIREANNMADA REMEMBRANCE V. LEWIS
0110 EIREANNMADA REPARTEE A.&J. BARTOSY
0111 INDIAN CH. EIREANNMADA REFLECTIONS M.MATHRANI
0112 CH. EIREANNMADA REQUIEM M. BRIGGS
0113 CH. EIREANNMADA AMERICAS CUP BROWNE/BRIGGS
0114 EIREANNMADA GRETEL G. BROWNE
0115 EIREANNMADA STOPTHEMUSIC G. BROWNE
0116 CH. EIREANNMADA LIBERTY G. BROWNE
0120 GRAND CH. PENDORIC FIRE 'N ICE (A.I.) L.& A. HEARN
0121 CH. PENDORIC PANDEMONIUM (A.I.) L.& A. HEARN
0122 CH. PENDORIC ECHOS ENCORE L.& A. HEARN
0123 CH. PENDORIC HARTS OF FIRE ALEXANDER/HEARN
0124 PENDORIC PREACHER MAN L.& A. HEARN
0125 PENDORIC CRITICS CHOICE L.& A. HEARN
0127 CH. SAXONY EVENING TIDE (IMP.U.S.A.) P. FROST
0133 LANASCOL BE SERIOUS C. CEDERMAN
0146 GR.CH. IRISHACRE SUMMER SHEELIN P. TIMMS
0147 CH. BRODRUGGAN SO BEWITCHED L. GLEDHILL
0148 CH. BRODRUGGAN REGAL HEART J. STEWART
0149 BRODRUGGAN BRAVEHEART M. BLOWERS
0150 CH. BRODRUGGAN SO CHERISHED C. LARKIN
0151 CH. BRODRUGGAN BELIEVE IN LUV P. TIMMS
0152 CH. BRODRUGGAN TURNBACK TIME DELMENICO
0153 BRODRUGGAN KISS TO KISS P. TIMMS
0154 BRODRUGGAN LOCAL HERO J. STEWART
0155 BRODRUGGAN MY PASSION J. STEWART
0158 ROSSLARE TESTA ROSSA P. FROST
0159 ROSSLARE ROUGE HOMME P. FROST
0160 ROSSLARE RED SHOES P. FROST
0161 ROSSLARE SUCCO ROSSO P. FROST
0162 ROSSLARE TERRACOTTA P. FROST
0163 GENESIS STARS CLONAGEERA J. SMITH
0164 CH. RHIANNON RESPLENDENCE M. SCOTT
0165 RHIANNON PRINCE O TIDES J. CARLTON
0168 CH. TULLANE WHYTWOKAY OKAY MIDDLETON/
PAINE/CAMPAIN
0169 TULLANE ATEICOL DOT COM E. LANGHAM-
GOODWIN
0170 SHALLOYS SUMMER ECLIPSE T.& L. JONES
0171 SHALLOYS SHADES OSUMMER V. & J. MALLOY
0172 SHALLOYS WINTERFIELDS V. & J. MALLOY
0173 SHALLOYS AUTUMN AMBEROSE R&B.BRESANELLO
0174 TULLANE SURF THE NET MIDDLETON/
PAINE/CAMPAIN
0175 LANASCOL GAME OF CHANCE C.A.CEDERMAN
0176 N.Z. CH. LANASCOL DREAMTIME C.A. CEDERMAN
0177 NZ CH. LANASCOL DESTINY J. BROWNLIE
0178 NZ CH. LANASCOL DEFIANCE GIBSON/JAMES
0179 EIREANNMADA FORTUITOUS G. BROWNE
0181 BRODRUGGAN DOWNUNDER P. TIMMS
0183 CH. GAILEAS DYNASTY BY DESIGN M. & A. POSFORD
0184 CH. GAILEAS DANCING MASTER M. & A. POSFORD
0185 GAILEAS DEBONAIR M. & A. POSFORD
0186 CH. GAILEAS DELIGHTFUL DREAMS M. & A. POSFORD
0187 CH. GAILEAS WINNER TAKES ALL M. & A. POSFORD
0188 CH. GAILEAS WHISTLING WIND M. & A. POSFORD
0189 CH. GAILEAS WATCH ME GO M. & A. POSFORD
0190 GAILEAS AIMEE M. & A. POSFORD
0191 TULLANE WALL TO WALL C. PAINE
0192 CH. EIREANNMADA ODE TOAUTUMN (IID) G. BROWNE
0194 N.Z. CH. EIREANNMADA STAR O PARIS BROWNE/
CEDERMAN
0195 EIREANNMADA HOUSE O YORK C. CEDERMAN
0196 N.Z. CH. LANASCOL FLYING HIGH CEDERMAN/
BROWNE
0197 LANASCOL ERRANT PIPER C. CEDERMAN
0198 EIREANNMADA ORLEANS G. BROWNE
0199 EIREANNMADA ARAGON G. BROWNE
0200 CH. EIREANNMADA PRINCEOWALES G. BROWNE
0201 CH. EIREANNMADA RUSTICANA PAINE/BROWNE
0202 CH. EIREANNMADA IRISH ROSE G. BROWNE
0203 EIREANNMADA DANA ROSE GRAY/BROWNE
0204 EIREANNMADA MARIE CLAIRE G. BROWNE
0205 EIREANNMADA FLAMBOYANCE (IID) G. BROWNE
0206 EIREANNMADA VANITY FAIR (IID) G. BROWNE
0207 EIREANNMADA LAST FLUTTER G. BROWNE
0208 EIREANNMADA LAST EDITION G. BROWNE
0210 EIREANNMADA TWIST O FATE G. BROWNE
0213 SOLASDAS DRIVN MS DAISY P.& B. MARTIN
0214 CH. MARTINRIDGE RAIZN ARUKUS ET P.& B. MARTIN
0215 MARTINRIDGE RAIZ CONFUSN P.& B. MARTIN
0216 MARTINRIDGE CENTERFOLD P.& B. MARTIN
0217 MARTINRIDGE GLORY ROAD P.& B. MARTIN
0218 MARTINRIDGE FLAMIN GLORY P.& B. MARTIN
0219 MARTINRIDGE RAIZTHEFLAME P.& B. MARTIN
0220 MARTINRIDGE SAINTLY P.& B. MARTIN
0221 MARTINRIDGE ETHEREAL P.& B. MARTIN
0222 CH. MARTINRIDGE FLAMN WISHES P.& B. MARTIN
0225 SOLASDAS DRIVN FORCE M. BLOWERS
0226 SOLASDAS NO PREJUDICE J. MOY
0227 SOLASDAS OONAGH DOOLEY M. DREW
0228 SOLASDAS CRUISIN K. GODRIDGE
0229 SOLASDAS FURTHER AWAY P. TIMMS
0230 SOLASDAS DESTINYS CHILD R.& L. GLEDHILL
0231 SOLASDAS UNFORGETTABLE K. FULLER
0232 SOLASDAS DINNER DANCER G.& M. BAXTER
0233 SOLASDAS DEBONAIR DANCER M. BLOWERS
0234 SOLASDAS DASHING DANCER M. BLOWERS
0235 SOLASDAS DARING DANCER RAFIO & BLOWERS
0236 SOLASDAS MYSTIC DANCER V.& P. ALLISON
0237 SOLASDAS FIRE DANCER G. NETTLE
0238 SOLASDAS SHADOW DANCER A. MITTING
0239 SOLASDAS DESTINY DANCER G. JUCKENT
0240 SOLASDAS MOONBEAM DANCER K. TUCKERMAN
0241 SOLASDAS RAINBOW DANCER G. HOUSDEN
0242 SOLASDAS RUBY THE DANCER M. COLLINS
0246 TYNAGH ESCAPADE K.& M. FULLER
0247 TYNAGH EVENING ROSE K.& M. FULLER
0249 CH. TAHTAN HOLLYWOOD GIRL J. STEWART
0250 CH. TAHTAN CRIMSON TIDE J. STEWART
0251 CH. TAHTAN THE BODY GUARD N. SHAMAN
0252 BRODRUGGAN SUMMERTIME J. STEWART
0253 BRODRUGGAN FOUR SEASONS J. STEWART
0254 BRODRUGGAN WINTERTIME J. STEWART
0255 BRODRUGGAN THE DUBLINER J. STEWART
0265 ORNAC FLAMIN RED HONEY S.G. UNDERWOOD
0266 ORNAC MIC MAC S.G. UNDERWOOD
0267 ORNAC DESIGNER MISTAKE S.G. UNDERWOOD
0268 CH. ORNAC REDHOT RHYME S.G. UNDERWOOD
0269 CH. ORNAC REDHOT REASON S.G. UNDERWOOD
0270 CH. ORNAC REDHOT REDEMPTION S.G. UNDERWOOD
0271 ORNAC RED OVA RED S.G. UNDERWOOD
0272 CH. ORNAC OOPS FORDAGOSSIPS S.G. UNDERWOOD
0273 CH. NOTNYL AS KWOSE AS L.C. COCHRANE
0274 CH. NOTNYL U R MISTAKEN L.C. COCHRANE
0275 CH. NOTNYL SIMPLY MISTAKEN L.C. COCHRANE
0276 CH. NOTNYL NEVA MISTAKEN L.C. COCHRANE
0277 CH. NOTNYL ITWOZA MISTAKE L.C. COCHRANE
0278 DUNLOE MONSTERS INC P.& S. MIDDLETON
0279 DUNLOE RAGIN CAJUN P.& S. MIDDLETON
0280 DUNLOE HOT FUDGE P.& S. MIDDLETON
0281 DUNLOE ORIGINAL SIN P.& S. MIDDLETON
IRISH SETTERS DNA TESTED CLEAR OF CLAD IC REGISTER.
0001 CH. GWYNDARA WHOS THAT GIRL T.& L. JONES
0003 CH. RHIANNON RUBY ROSE C. BAKER
0005 CH. GWYNDARA CHAIN REACTION T.& L. JONES
0007 GRAND CH. GWYNDARA MONTPELIER (A.I.) T.& L. JONES
0008 CH. GWYNDARA WHISPERING JACK (A.I.) T.& L. JONES
0009 GRAND CH. GWYNDARA YOU WEAR IT WELL (A.I.) T.& L. JONES
0010 CH. RHIANNON GLORIANNA M. SCOTT
0011 EIREANNMADA IRISH WHIMSY G. BROWNE
0012 EIREANNMADA EXCLUSIVE G. BROWNE
0013 EIREANNMADA MARY MAGEE G. BROWNE
0014 EIREANNMADA ISADORABLE G. BROWNE
0015 CH. MEADOWLARKS ENERGIZER (IMP.USA) J. GOSSAGE
0017 CH. ARDGLEN ALL SPICE C. PAINE
0018 GRAND CH. MARIGOLD BY THE WAY P.&B. MARTIN
0019 CH. EIREANNMADA MATILDA P.&B. MARTIN
0020 CH. MARTINRIDGE FLAMINBEAUTY P.&B. MARTIN
0027 GRAND CH. GWYNDARA TOTAL ECLIPSE (A.I.) T.& L. JONES
0028 CH. GWYNDARA HEARTS ON FIRE (A.I.) T.& L. JONES
0029 CH. GWYNDARA FLAMING HEART (A.I.) POSFORD/JONES
0033 EIREANNMADA SHAMIRA P.&B. MARTIN
0037 CH. TIMADON PRIDE AND PREJUDICE(IMP.UK) J.STEWART
0081 SINGAPORE CH. MARTINRIDGE UPTO NO GOOD C.M. KOK
0089 BAIYAI VALIANT SCEPTRE (A.I.) J.& I. WILLINSKI
0095 BAIYAI DEMERERA (A.I.) BAIYAI KNLS
0118 CH. PENDORIC IZY FORREAL L. & A.M. HEARN
0119 EIREANNMADA RED ECHO L. & A.M. HEARN
0120 GRAND CH. PENDORIC FIRE 'N ICE (A.I.) L. & A.M. HEARN
0121 CH. PENDORIC PANDEMONIUM L. & A.M. HEARN
0127 CH.SAXONY EVENING TIDE (IMP. USA) P. FROST
0128 CH. BURNSETT MADISON G. BROWNE
0129 NZ GR.CH. QUAILMOOR NOTORIOUS (IMP.AUST) C.CEDERMAN
0130 NZ. CH.QUAILMOOR MARY QUANT(IMP.AUST) CEDERMAN/ROBINSON
0131 NZ GRAND CH. LANASCOL WORK OF ART C.CEDERMAN
0132 NZ CH. LANASCOL YOU'RE SO VAIN J. MOFFAT
0134 CH. QUAILMOOR KISS MEKATE
0135 BRODRUGGAN FUR ELISE J.STEWART
0136 CH. ROSSLARE FROMA DISTANCE (A.I.) P. FROST
0137 EIREANNMADA TOP CLASS (A.I.) P. BLAMIRE
0138 REDMANHEY MAEVE P. BLAMIRE
0139 TARAGLEN TOP GUN J. & E. BUCKLEY
0140 TARAGLEN AVRIL K. McCARTHY
0141 TARAGLEN TITIAN TESS K. McCARTHY
0142 TARAGLEN TOUR DE FORCE K. McCARTHY
0143 CH. TARAGLEN TREND SETTER K. McCARTHY
0144 CH. TARAGLEN TUDOR ROSE K. McCARTHY
0145 CH. QUAILMOOR CAPUCCI V.&J. MALLOY
0156 CH. EIREANNMADA HOME RUN D.&G. CLELAND
0166 CH. QUAILMOOR NEWS FLASH MIDDLETON/HAMILTON
0167 CH. TULLANE THESIS BY DESIGN MIDDLETON/PAINE
0180 CH. TARAGLEN VANGELLIS J.W. THOMPSON
0182 CH. GAILEAS TULLY O VALLA M.& A. POSFORD
0192 CH. EIREANNMADA ODE TOAUTUMN G. BROWNE
0193 EIREANNMADA WINDSOR G. BROWNE
0209 EIREANNMADA TOP DRAWER (A.I.) G. BROWNE
0212 MARTINRIDGE SWEET DREAMS P.& B. MARTIN
0243 CH. BRECHINS EMERALD BREEZE BIRD/MCFARLANE
0244 CH. KILTIMAGH CELTIC MIST D.& J. BIRD
0245 CH. KILTIMAGH MAHOGANY MORN D.& J. BIRD
0262 CH. PENDORIC RED RUSH S.G. UNDERWOOD
0263 CH. PENDORIC AFLAME S.G. UNDERWOOD
0264 CH. PENDORIC KISS UNDA FIRE L. COCHRANE
0039 GRAND CH. MARTINRIDGE PURE DELIGHT P.& B. MARTIN
0069 CH. TYNAGH TEQUILA SUNRISE K.& M.FULLER

IRISH SETTERS DNA TESTED CLEAR OF CLAD IN THE UK
0070 CH. WARAGANA FIELDS O FIRE M. BLOWERS
0074 GRAND CH. BRODRUGGAN FAR AND AWAY C.D. P. TIMMS
0093 BAIYAI SCARLETT LADY (A.I.) W.& T. GATES
0096 BAIYAI AUTUMN JEWEL (A.I.) D.& K. ANDERSON
0097 CH. TARRALAIN CHAYNAL M. BLOWERS
0157 CH. LIMAVARDY GYPSY ROVER (A.I.) W.&T. GATES
0211 MISTYMOORES AUTUMN MAGIC P. AUSTIN
0223 GRAND CH. IRISHMOOR KETARI V.& A. GRAY
0224 CH. GLENGRAY PENTELOPE V.& A. GRAY
0248 CH. BRODRUGGAN SYMPHONY D. FINLAYSON
IRISH SETTERS GENETICALLY CLEAR OF CLAD
0040 GR. CH. MARTINRIDGE KISS O FIRE P.&B.MARTIN
0041 GR. CH. EIREANNMADA AT TULANE C. PAINE
0042 GR. CH. TULLANE FIERY THYME C. PAINE
0043 GR.CH. EIREANNMADA TIMES SQUARE B. MARTIN
0044 CH. MARTINRIDGE CAROUSEL P.&B. MARTIN
0045 CH. MARTINRIDGE CHARISMA P.&B. MARTIN
0046 MARTINRIDGE RAISING HELL P.&B. MARTIN
0047 CH. MARTINRIDGE VINTAGE CROP P.&B. MARTIN
0048 CH. MARTINRIDGE VICTORY WALTZ P.&B. MARTIN
0049 CH. MARTINRIDGE VANITY FAIR P.&B. MARTIN
0050 MARTINRIDGE EXCLUSIVE P.&B. MARTIN
0051 CH. MARTINRIDGE TANTALIZING P.&B. MARTIN
0052 AM. CH. GWYNDARA DOUBLE IMPACT G. SWANSON
0053 CH. GWYNDARA GOOD VIBRATIONS C.D. S.& G. FIELD
0054 GWYNDARA LA VIDA LOCA T.& L. JONES
0055 CH. RHIANNON DEVORGILLA M. SCOTT
0056 RHIANNON RED BUTTONS C.BAKER&SCOTT
0057 RHIANNON BALLYKISSANGEL J. CARLTON
0058 RHIANNON RAFFERTY G.SYLVESTER
0059 CH. EIREANNMADA SANTA MONICA G. BROWNE
0060 AUST.& N.Z. CH. EIREANNMADA SEQUOIA G. BROWNE
0061 EIREANNMADA YOSEMITE G. BROWNE
0062 EIREANNMADA BALTIMORE G. BROWNE
0063 IND.CH. EIREANNMADA KINGSCANYON S. SHARMA
0064 CH. HENALEAS MOONLIGHT OVER LIMAVARDY J. SMITH
0065 LIMAVARDY INCANTATION J. SMITH
0066 CH. LIMAVARDY INFATUATION R.& L. GLEDHILL
0067 LIMAVARDY INCLINATION A. HOLMES
0068 LIMAVARDY INSTIGATOR J.& B. FRY
0071 SOLASDAS ON FIRE K. FULLER
0072 SOLASDAS DREAM BY FIRE M. BLOWERS
0073 CH. SOLASDAS DESERT FIRE J. MOY
0082 MARTINRIDGE WICKED WITCH P.&B.MARTIN
0083 MARTINRIDGE WILD WIND P.&B. MARTIN
0098 GRAND CH. EIREANNMADA AT HARVARD CLELAND/BROWNE
0100 EIREANNMADA IVY LEAGUE G. BROWNE
0101 EIREANNMADA CLAREMONT G. BROWNE
0102 EIREANNMADA SOUTHN BELLE G. JAMES
0107 EIREANNMADA ROYAL FLUSH G. BROWNE
0108 CH. EIREANNMADA RHETORIC M. BRIGGS
0109 EIREANNMADA REMEMBRANCE V. LEWIS
0110 EIREANNMADA REPARTEE A.& J. BARTOSY
0111 IND.CH. EIREANNMADA REFLECTIONS M. MATHRANI
0112 CH. EIREANNMADA REQUIEM M. BRIGGS
0115 EIREANNMADA STOPTHEMUSIC G. BROWNE
0116 CH. EIREANNMADA LIBERTY G. BROWNE
0122 CH. PENDORIC ECHOS ENCORE L. & A.M. HEARN
0123 CH. PENDORIC HARTS OF FIRE ALEXANDER/HEARN
0124 PENDORIC PREACHER MAN L. & A.M. HEARN
0125 PENDORIC CRITICS CHOICE L. & A.M. HEARN
0133 LANASCOL BE SERIOUS C.CEDERMAN
0146 GR.CH. IRISHACRE SUMMER SHEELIN P. TIMMS
0147 CH. BRODRUGGAN SO BEWITCHED L. GLEDHILL
0148 CH. BRODRUGGAN REGAL HEART J. STEWART
0149 BRODRUGGAN BRAVEHEART M. BLOWERS
0150 CH. BRODRUGGAN SO CHERISHED C. LARKIN
0151 CH. BRODRUGGAN BELIEVE IN LUV P. TIMMS
0152 CH. BRODRUGGAN TURNBACK TIME DELMENICO
0153 BRODRUGGAN KISS TO KISS P. TIMMS
0154 BRODRUGGAN LOCAL HERO J. STEWART
0155 BRODRUGGAN MY PASSION J. STEWART
0158 ROSSLARE TESTA ROSSA P. FROST
0159 ROSSLARE ROUGE HOMME P. FROST
0160 ROSSLARE RED SHOES P. FROST
0161 ROSSLARE SUCCO ROSSO P. FROST
0162 ROSSLARE TERRACOTTA P. FROST
0163 GENESIS STARS CLONAGEERA J. SMITH
0164 RHIANNON RESPLENDENCE M. SCOTT
0165 RHIANNON PRINCE O TIDES J. CARLTON
0168 CH. TULLANE WHYTWOKAY OKAY MIDDLETON/PAINE/CAMPAIN
0169 TULLANE ATEICOL DOT COM E. LANGHAM-GOODWIN
0170 SHALLOYS SUMMER ECLIPSE T. & L. JONES
0171 SHALLOYS SHADES OSUMMER V. & J. MALLOY
0172 SHALLOYS WINTERFIELDS V. & J. MALLOY
0173 SHALLOYS AUTUMN AMBEROSE R&B.BRESANELLO
0174 TULLANE SURF THE NET MIDDLETON/PAINE/CAMPAIN
0175 LANASCOL GAME OF CHANCE C. CEDERMAN
0176 N.Z.CH. LANASCOL DREAMTIME C. CEDERMAN
0177 N.Z. CH. LANASCOL DESTINY J. BROWNLIE
0178 N.Z. CH. LANASCOL DEFIANCE GIBSON/JAMES
0179 EIREANNMADA FORTUITOUS G. BROWNE
0181 BRODRUGGAN DOWNUNDER P. TIMMS
0183 CH. GAILEAS DYNASTY BY DESIGN M.& A. POSFORD
0184 CH. GAILEAS DANCING MASTER M. & A. POSFORD
0185 GAILEAS DEBONAIR M. & A. POSFORD
0186 CH. GAILEAS DELIGHTFUL DREAMS M. & A. POSFORD
0187 CH. GAILEAS WINNER TAKES ALL M. & A. POSFORD
0188 CH. GAILEAS WHISTLING WIND M. & A. POSFORD
0189 CH. GAILEAS WATCH ME GO M. & A. POSFORD
0190 GAILEAS AIMEE M. & A. POSFORD
0191 TULLANE WALL TO WALL C. PAINE
0194 N.Z. CH. EIREANNMADA STAR O PARIS BROWNE/CEDERMAN
0195 EIREANNMADA HOUSE O YORK C. CEDERMAN
0196 N.Z. CH. LANASCOL FLYING HIGH CEDERMAN/BROWNE
0197 LANASCOL ERRANT PIPER C. CEDERMAN
0198 EIREANNMADA ORLEANS G. BROWNE
0199 EIREANNMADA ARAGON G. BROWNE
0200 CH. EIREANNMADA PRINCEOWALES G. BROWNE
0201 CH. EIREANNMADA RUSTICANA PAINE/BROWNE
0202 EIREANNMADA IRISH ROSE G. BROWNE
0203 EIREANNMADA DANA ROSE GRAY/BROWNE
0204 EIREANNMADA MARIE CLAIRE G. BROWNE
0205 EIREANNMADA FLAMBOYANCE (IID) G. BROWNE
0206 EIREANNMADA VANITY FAIR (IID) G. BROWNE
0207 EIREANNMADA LAST FLUTTER G. BROWNE
0208 EIREANNMADA LAST EDITION G. BROWNE
0210 EIREANNMADA TWIST O FATE G. BROWNE
0213 SOLASDAS DRIVN MS DAISY P.& B. MARTIN
0214 CH. MARTINRIDGE RAIZN ARUKUS ET P.& B. MARTIN
0215 MARTINRIDGE RAIZ CONFUSN P.& B. MARTIN
0216 MARTINRIDGE CENTERFOLD P.& B. MARTIN
0217 MARTINRIDGE GLORY ROAD P.& B. MARTIN
0218 MARTINRIDGE FLAMIN GLORY P.& B. MARTIN
0219 MARTINRIDGE RAIZTHEFLAME P.& B. MARTIN
0220 MARTINRIDGE SAINTLY P.& B. MARTIN
0221 MARTINRIDGE ETHEREAL P.& B. MARTIN
0222 CH. MARTINRIDGE FLAMN WISHES P.& B. MARTIN
0225 SOLASDAS DRIVN FORCE M. BLOWERS
0226 SOLASDAS NO PREJUDICE J. MOY
0227 SOLASDAS OONAGH DOOLEY M. DREW
0228 SOLASDAS CRUISIN K. GODRIDGE
0229 SOLASDAS FURTHER AWAY P. TIMMS
0230 SOLASDAS DESTINYS CHILD R.& L. GLEDHILL
0231 SOLASDAS UNFORGETTABLE K. FULLER
0232 SOLASDAS DINNER DANCER G.& M. BAXTER
0233 SOLASDAS DEBONAIR DANCER M. BLOWERS
0234 SOLASDAS DASHING DANCER M. BLOWERS
0235 SOLASDAS DARING DANCER RAFIO & BLOWERS
0236 SOLASDAS MYSTIC DANCER V.& P. ALLISON
0237 SOLASDAS FIRE DANCER G. NETTLE
0238 SOLASDAS SHADOW DANCER A. MITTING
0239 SOLASDAS DESTINY DANCER G. JUCKENT
0240 SOLASDAS MOONBEAM DANCER K. TUCKERMAN
0241 SOLASDAS RAINBOW DANCER G. HOUSDEN
0242 SOLASDAS RUBY THE DANCER M. COLLINS
0246 TYNAGH ESCAPADE K.& M. FULLER
0247 TYNAGH EVENING ROSE K.& M. FULLER
0249 CH. TAHTAN HOLLYWOOD GIRL J. STEWART
0250 CH. TAHTAN CRIMSON TIDE J. STEWART
0251 CH. TAHTAN THE BODY GUARD N. SHAMAN
0252 BRODRUGGAN SUMMERTIME J. STEWART
0253 BRODRUGGAN FOUR SEASONS J. STEWART
0254 BRODRUGGAN WINTERTIME J. STEWART
0255 BRODRUGGAN THE DUBLINER J. STEWART
0265 ORNAC FLAMIN RED HONEY S.G. UNDERWOOD
0266 ORNAC MIC MAC S.G. UNDERWOOD
0267 ORNAC DESIGNER MISTAKE S.G. UNDERWOOD
0268 CH. ORNAC REDHOT RHYME S.G. UNDERWOOD
0269 CH. ORNAC REDHOT REASON S.G. UNDERWOOD
0270 CH. ORNAC REDHOT REDEMPTION S.G. UNDERWOOD
0271 ORNAC RED OVA RED S.G. UNDERWOOD
0272 CH. ORNAC OOPS FORDAGOSSIPS S.G. UNDERWOOD
0273 CH. NOTNYL AS KWOSE AS L.C. COCHRANE
0274 CH. NOTNYL U R MISTAKEN L.C. COCHRANE
0275 CH. NOTNYL SIMPLY MISTAKEN L.C. COCHRANE
0276 CH. NOTNYL NEVA MISTAKEN L.C. COCHRANE
0277 CH. NOTNYL ITWOZA MISTAKE L.C. COCHRANE
0278 DUNLOE MONSTERS INC P.& S. MIDDLETON
0279 DUNLOE RAGIN CAJUN P.& S. MIDDLETON
0280 DUNLOE HOT FUDGE P.& S. MIDDLETON
0281 DUNLOE ORIGINAL SIN P.& S. MIDDLETON
IRISH SETTERS DNA TESTED CARRIERS OF CLAD
0087 CH. WENDOVER CANE SUGAR (IMP. U.K.) BAIYAI KNLS
0088 BAIYAI FEVER PITCH (A.I.) BAIYAI KNLS