VALE
June 17th, 2012 by Gail
---
 AUST CH PENDORIC KISS UNDA FIRE ET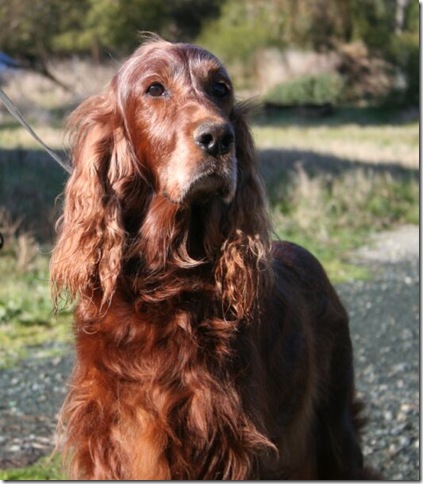 ~ 'Matriarch' Morgan ~
Sire: Aust Grand Ch Martinridge Kiss O Fire – Dam : Pendoric At Witsend
7 January 1999 – 14 June 2012
We lost a treasured friend today
The sweet dog who used to lay
Her gentle head upon my knee
And shared her silent thoughts with me.
She'll come no longer to my call
Retrieve no more her favourite ball
A voice far greater than my own
Has called her to his golden throne.
Although my eyes are filled with tears
I thank him for the happy years
He let her spend down here with me
And for her love and loyalty.
When it is time for me to go
And join her there, this much I know
I shall not fear the transient dark
For she will greet me with a bark.
Along with her brother Nevada she ruled the house for many years and kept everyone in their place ..
From cat killer to tug o war player to the best mother, foster mother and grandmother to all puppies you could ever ask for ….
She will be sadly missed by all who knew her ..
BYE FOR NOW SWEET GIRL ..
Loved and missed by
Sally, Lynton and the Tribe ~

Sally Underwood (Ornac Irish Setters)  & Lynton Cochrane (Notnyl Irish Setters)
[email protected]
Thanks to Leigh & Anne-Marie Hearn for allowing is the pleasure of sharing our lives with this girl ….
.