CIE Ch Wind Chart Alternative Mambo
---

CIE CH WIND CHART ALTERNATIVE MAMBO
Mamm
(sire: Aust Sup Ch Shelomith Vice Regent – Dam: Lt Ch, Ee & Lv & Lt & Balt & Ru & By J Ch, LtW-09, LvW-09, EeJW-08 Original Gigglin Ginger)
Born : 27 August 2009
Loving Owner:
Liina Kümnik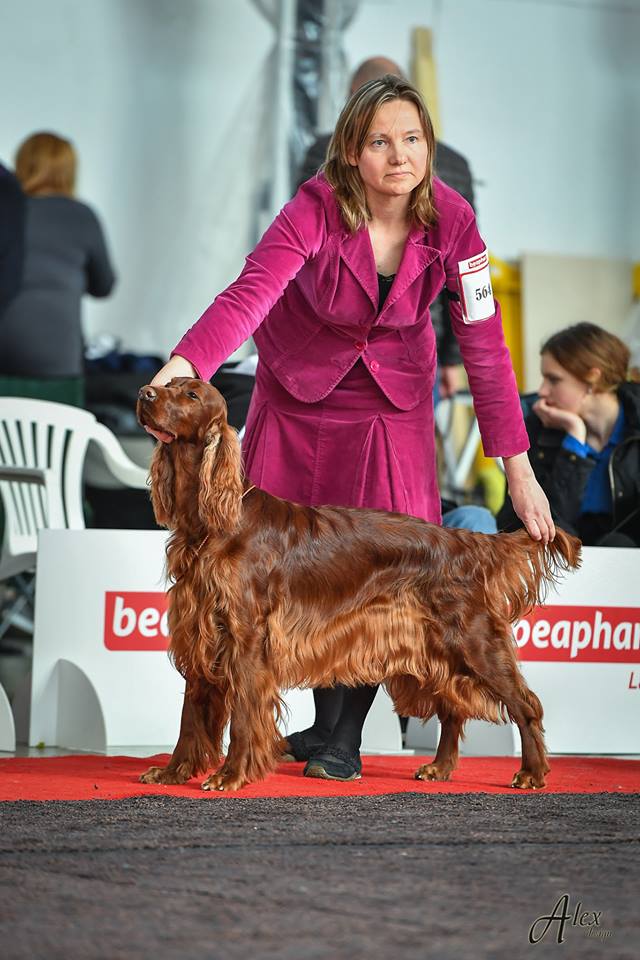 Mamm's (Wind Chart Alternative Mambo) official titles from shows:
EST J CH Estonian Junior Champion
LTU JCH Lithuanian Junior Champion
LVA JCH Latvian Junior Champion
BALT J CH Baltic Junior Champion
ESTW12 Estonian Winner 2012
LVA CH Latvian Champion
EST CH Estonian Champion
TLNW13 Tallinn Winner 2013
LTU CH Lithuanian Champion
BALT CH Baltic Champion
BALT W13 Baltic Winner 2013
C.I.E International Show Champion
TLNW14 Tallinn Winner 2014
ESTW14 Estonian Winner 2014
LTU W15 Lithuanian Winner 2015
BALT W15 Baltic Winner 2015
ESTW17 Estonian Winner 2017
EST Vet CH Estonian Veteran Champion
Riga VetW17 Riga Veteran Winner 2017
LVA Vet CH Latvian Veteran Champion
TLN VetWCup18 Tallinn Veteran Winter Cup Winner 2018
TLN VetW18 Tallinn Veteran Winner 2018
Mamm has won BOB 28 times. She also has won Best in Show at Setter specialty in Latvia and BIS2 at a National show in Tallinn. 9 group wins. At World Dog Show 2014 in Helsinki, Finland, she was 2nd in a big champion class.
Mamm enjoys Agility as well as Conformation showing…. she has excelled at both!
Several times she has been best Irish Setter Bitch of the Year at Estonian Setter Club's list, also best agility setter.
Mamm has competed in agility and reached the highest level 3 (A3). The best result is a 5th place on Estonian championships (2017).
We are still doing agility as a hobby, but because of age will most probably not compete officially anymore.
In obedience, she has competed a few times in class 1.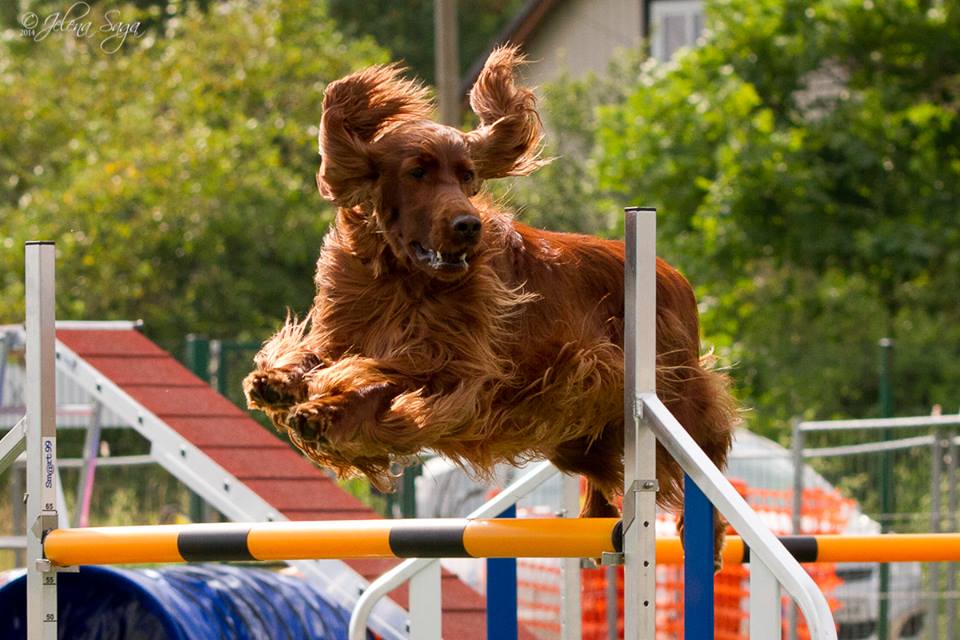 Mamm is a wonderful dog, always willing to please and follow me everywhere. She is kind and quite calm nowadays but likes to play and run.
I'm so grateful to have her in my life. The great friendship with Gail, Evgenia, Mikko and other owners of the siblings and half-siblings means a lot to me.
And now I also have a Hugo granddaughter (Flyer's daughter) with me.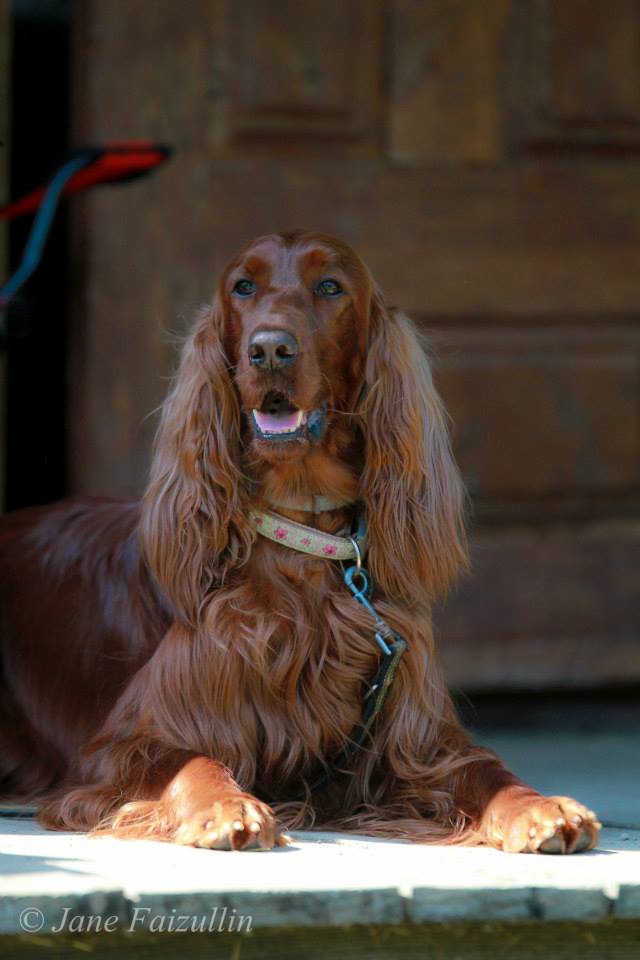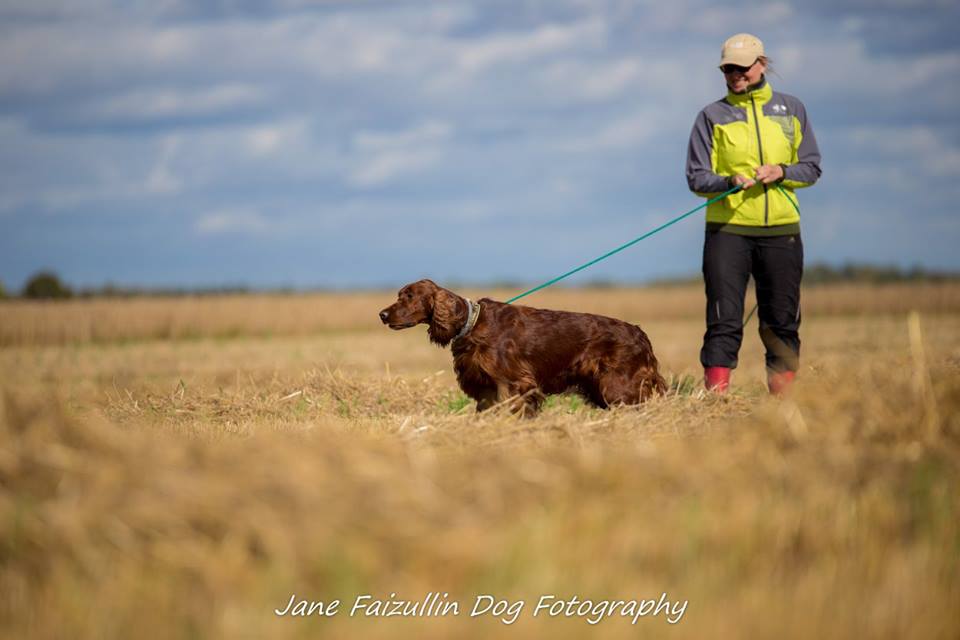 Liina Kumnik sends this wonderful link showing Mamm at her Agility training…. she's so clever!
http://www.youtube.com/watch?v=QbrkphSEVrQ
A young Mambo awarded Best In Group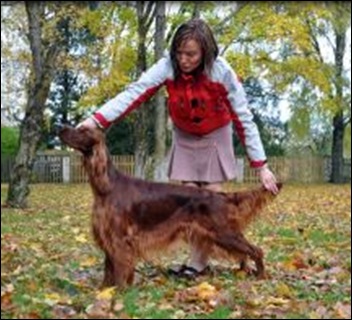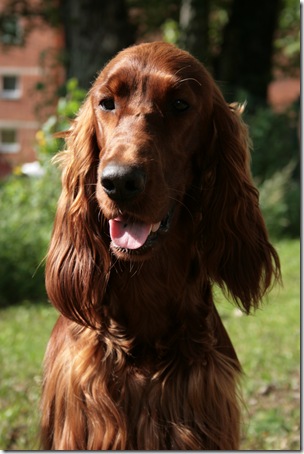 A happy, pretty, clever girl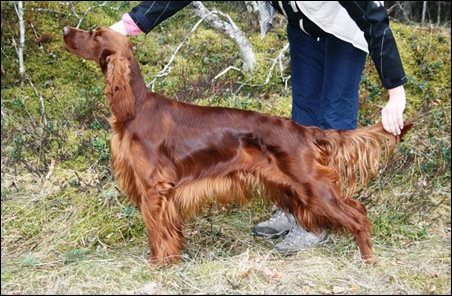 ---