VALE
June 27th, 2010 by Gail
---

       fly free sweet girl…. 
WELLGATE MARGUERITE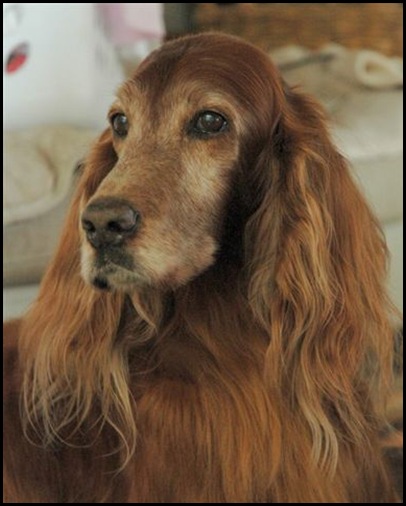 ~ Peri ~
1995 -  June 2010

Soulmate of Jan Robinson, Peri was never a show girl but she was the light of Jan's life.  She was 'just a pet '- perfect pet : never scrutinised for whether she was too broad, too short, too tall too anything – just perfect.
Peri was the 'covergirl' of our Irish Setter Club of Victoria's 2008 Championship show, displaying a gorgeous headstudy on the front of our catalogue.  Compliments abound, as irish setter breeders acknowledged the beauty of the classic headpiece  – one of which Dr Andrew Harwood boasted.
Owned, loved deeply and missed dearly by Jan Robinson
Bred by the late Dr Andrew Harwood (Wellgate Irish Setters)
***
---