1989 Mrs Betty Cantwell ISCV 28th Championship Show
---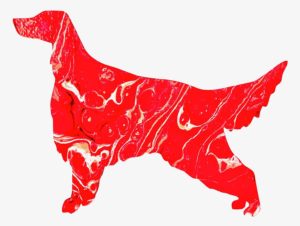 IRISH SETTER CLUB OF VICTORIA 28TH CHAMPIONSHIP SHOW
held at Royal Showgrounds, Ascot Vale, Victoria.
Judge : Mrs Betty Cantwell (New Zealand) (Ballymoss Irish Setters)
.
Baby Puppy Dog
1 Baiyai Nalin (Gration)
2 Brodruggan The Showman (Lack)
3 Baiyai Limited Edition (Foggitt)
Puppy Dog
1 Taraglen Spellbinder (Hocking)
2 Kelibri Key to Success (Kelibri Knls)
3 Marigold Medicine Man (Hopley)
Junior Dog
1 Eireannmada Cochise (Pichler)
2 Tarralain Patrick (Mangos)
3 Waragana Squizzy Tee (Blowers)
Intermediate Dog
1 Eireannmada Mustafa (Browne)
2 Inglevale Ima Toff (Hubbert)
3 Inglevale Into Win (Fletcher)
Limit Dog
1 Rosslare Man About Town (Frost)
2 Onedin Red Admiral (Checkley)
3 Taraglen Night Watch (Manelopolous)
Australian Bred Dog
1 Ch Leitrim Limousine (Jordan)
2 Ch Eireannmada Dodge City (Browne)
3 Pendoric Pegasus (Best)
Open Dog
1 Ch Shelomith Renaissance (McCarthy)
2 Ch Pendoric Izy For Real (Hearn)
3 Ch Quailmoor Cinzano (Gossage)
.
DOG CHALLENGE:
CH SHELOMITH RENAISSANCE
Reserve Dog Challenge:
CH PENDORIC IZY FOR REAL
.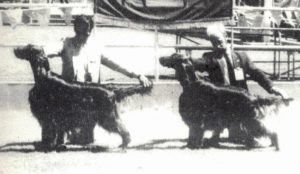 .
Baby Puppy Bitch
1 Baiyai Rialanna (Ruckett)
Puppy Bitch
1 Taraglen Spectre De La Rose (McCarthy)
2 Eireannmada Leilani (Browne)
Junior Bitch
1 Tarralain Tamarind (Mangos)
2 Ardglen Meadow Lark (Gossage)
3 Eireannmada Royal Oak (Norman)
Intermediate Bitch
1 Tarralain The Tramp (Galluzzo)
2 Ch Quailmoor Indian Summer (Hamilton)
3 Taraglen Pride of Erin (McAdam)
Limit Bitch
1 Pendoric Jessies Girl (Hearn)
2 Lietrim Leileah (Jordan)
3 Onedin Sea Shanty (Checkley)
Australian Bred Bitch
1 Ch Rosslare Scarlett O'Hara (Frost)
2 Ch Taraglen Estrella (McGuinn)
3 Brodruggan Roxy (Iggleton)
Open Bitch
1 Ch Quailmoor Georga Brown (Hamilton)
2. Ch Taraglen Maria (Hocking)
3 NZ Gr Ch Lanascol Cheerleader (Imp NZ) (Mangos/Cederman)
.
BITCH CHALLENGE:
CH QUAILMOOR GEORGA BROWN
Reserve Bitch Challenge
TARRALAIN THE TRAMP
.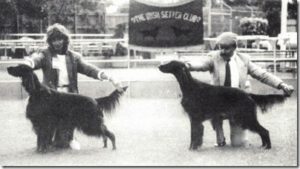 .
GENERAL SPECIALS
.
BEST EXHIBIT IN SHOW & BEST OPEN IN SHOW : CH SHELOMITH RENAISSANCE
RUNNER UP & BEST OPPOSITE SEX IN SHOW : CH QUAILMOOR GEORGA BROWN
.
BABY PUPPY IN SHOW : BAIYAI NALIN
OPPOSITE BABY : BAIYAI RIALANNA
PUPPY IN SHOW : TARAGLEN SPELLBINDER
OPPOSITE PUPPY : TARAGLEN SPECTRE DE LA ROSE
JUNIOR IN SHOW : EIREANNMADA COCHISE
OPPOSITE JUNIOR : TARRALAIN TAMARIND
INTERMEDIATE IN SHOW: TARRALAIN THE TRAMP
OPPOSITE INTERMEDIATE: EIREANNMADA MUSTAFA
LIMIT IN SHOW: ROSSLARE MAN ABOUT TOWN
OPPOSITE LIMIT: PENDORIC JESSIES GIRL
AUST BRED IN SHOW : CH LEITRIM LIMOUSINE
OPPOSITE AUST BRED: CH ROSSLARE SCARLETT O'HARA
OPEN IN SHOW: CH SHELOMITH RENAISSANCE
OPPOSITE OPEN: CH QUAILMOOR GEORGA BROWN

.
.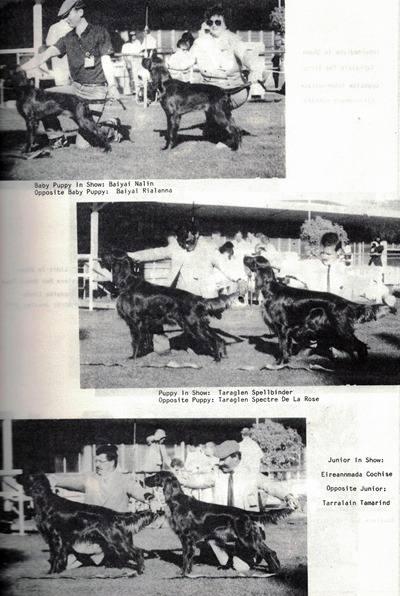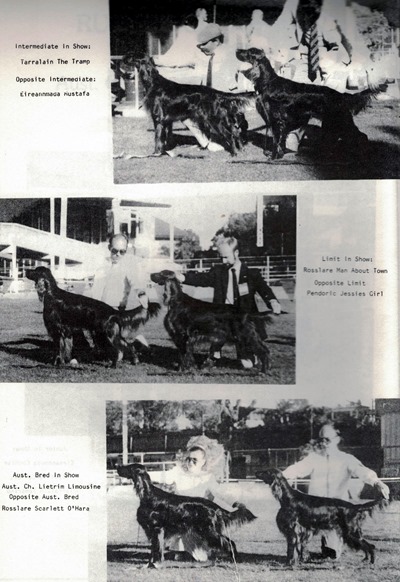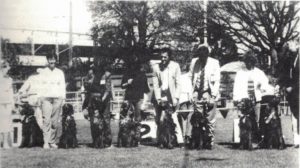 Veteran Parade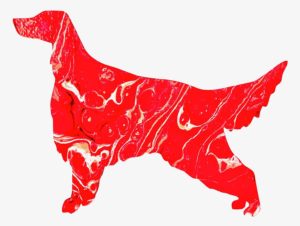 ---