CH Wind Chart At Original Free Flyer
---

CH WIND CHART AT ORIGINAL FREE FLYER
Flyer
Sire: Aust Grand Ch Shelomith Vice Regent
Dam: Lt Ch, Ee & Lv & Lt & Balt & Ru & By J Ch, LtW-09, LvW-09, EeJW-08 Original Gigglin Ginger
Born 27 August 2009
owned by : Evgenia Cafonova
bred by : Aivi Raisanen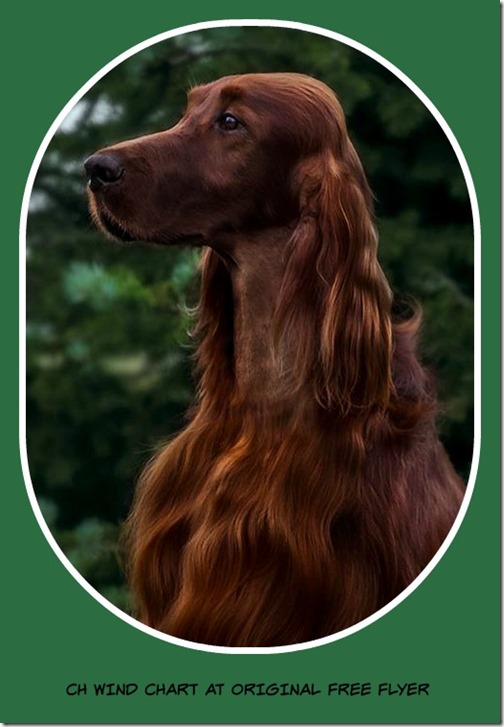 Flyer & handler/friend Ekaterina Litwak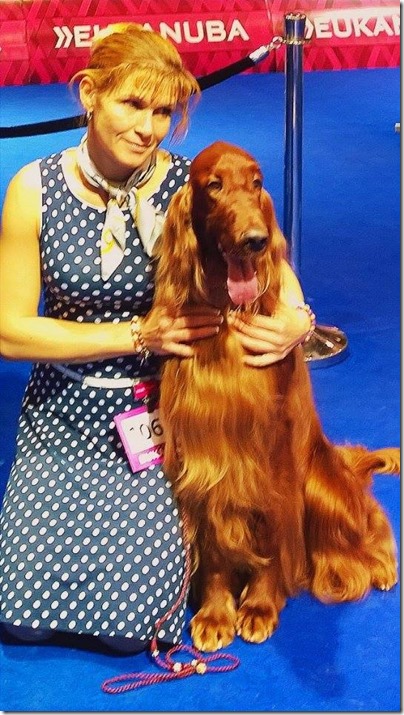 ---
Random Show Results
18 January 2015
NATIONAL DOG SHOW "BALTIC SHOW" – St. Petersburg
judge Péter Harsányi (Hungary)
CW, BEST MALE, BEST OF BREED, BEST IN GROUP 1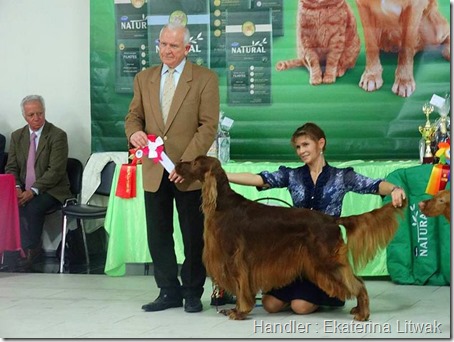 30-31 August 2014
INTERNATIONAL DOG SHOW (CACIB-FCI)- GREAT NOVGOROD-2014
judge FCI V.P. Ivanisheva judge FCI M.Polivanov
CW, CAC, CACIB, BEST OF BREED, BEST IN GROUP 1, BEST IN SHOW 3
judge FCI V.P. Ivanisheva judge FCI M.Polivanov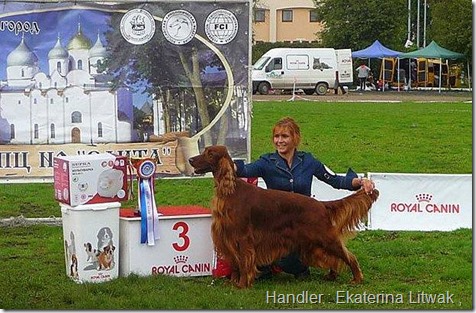 22-23 March 2014
INTERNATIONAL DOG SHOW "EURASIA-1-2014" (CACIB)
Judges YOCHAI BARAK ( Israel)
and JORGEN HINDSE (Denmark
ex., CAC, CACIB, BEST OF BREED, Crufts nomination, BEST IN GROUP 1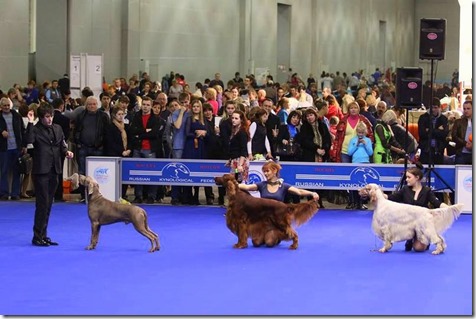 ---
Fun Times
…….
---
At International Exhibition in Moscow late in March, Eugenie's handler was unable to assist with handling Flyer for this huge event…. so she did it herself – AND with great success!!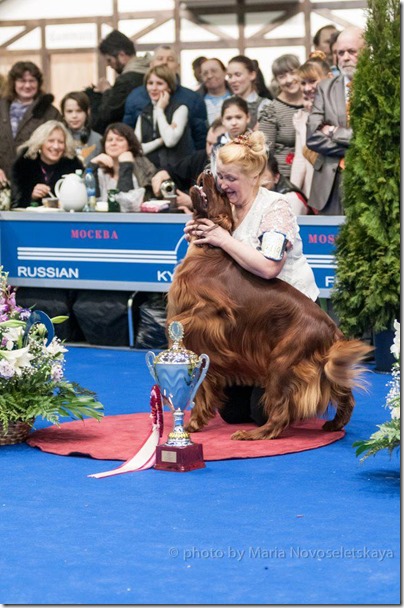 The official results:
24-25 March 2012 International exhibition "Eurasia-2012" 2 CACIB-FCI Moscow
on 24 March – Wind Chart At Original Free Flyer : CW, CAC, CACIB, Best of Breed, Best In Group 2  (nominated for Crufts)
Judge FCI -  Giuseppe Colombo Manfroni   (Italy)
judge FCI Group  – Laurent Pichard   (Switzerland)
on 25 March 2012 – Wind Chart at Original Free Flyer : CW, CAC, Reserve CACIB.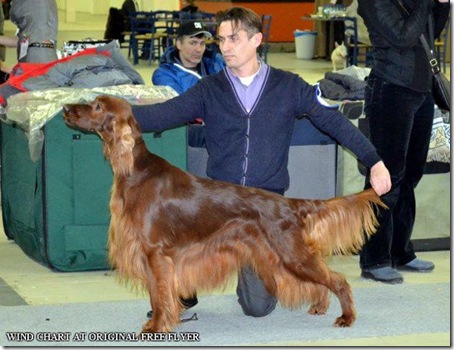 (Igor Trusov handling for owner Eugenia Cafonova)
Latest Show Result:
09/04/2011, at the exhibition "Sirius" CAC
Evgenia Cafonova's Wind Chart At Original Free Flyer-CW, CAC, BOB, BIG-3
Judge – Glenway Dymock (Australia)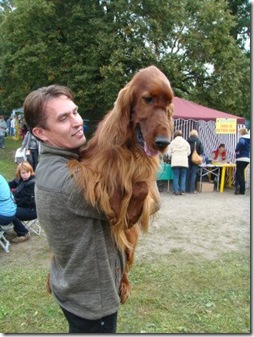 Handler for this show, Igor Trusov, proudly hugs The Flyer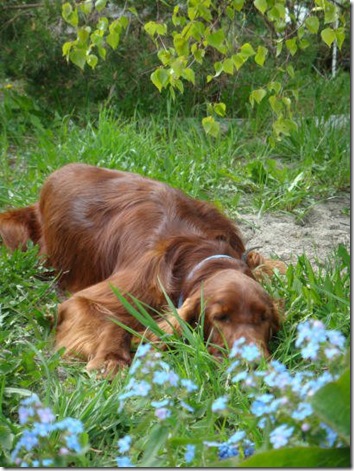 Exhibition "Eurasia 2011" in Moscow, Flyer took Best of Breed at the first show and became CHAMPION of RUSSIA and is nominated for CRUFTS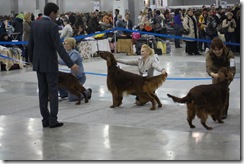 Still only 19 months of age, Flyer is owned, presented and handled by Evgenia Cafonova and bred by Aivi Raisanen (WindChart Setters)
.
Flyer, a resident of Russia, is another of the boys from  artificial insemination between Hugo and Ginger.  He commenced his show career in December 2010 and at his first two shows (17 months old)  took 2CACIB, 2 BIG-2 with excellent critiques.
Flyer at the first exhibition 2CACIB.2BIG-2
05.02.2011, the exhibition "Star Blizzard 2011." CAC, ČRKF
Wind Chart At Original Free Flyer, evaluation: excellent, CW.CAC, ČRKF, Bob, BIG-1, BIS-3
.
Bred by Aivi Raisanen (Wind Chart Setters) in Estonia (now Finland) and very proudly owned by Evgenia Cafonova in St Petersburg, Russia.
---