VALE
December 1st, 2019 by Gail
---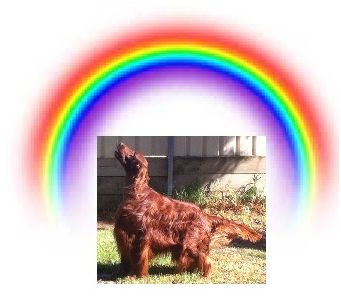 AUST CH GLENGRAY RED RED WINE CCD, RN
16 September 2010 ~ 26 November 2019
With sadness we wish to announce the passing of Kasey
Sire – Aust Ch Brodruggan Rogue Trader
Dam – Aust Ch Glengray Cracklin Rose
Kasey was an exceptionally smart boy – he loved his obedience training and competing for each obedience title gained in 3 goes, with me. He also enjoyed the show training and showing with Jemma and they formed a very close bond.
Just this side of heaven is a place called the Rainbow Bridge.
When a much-loved friend passes away,
they go to Rainbow Bridge
and play with special friends in the rolling meadows.
There they are restored to health and vigour,
just as we remember them.
They are happy and content,
but still miss the special people they leave behind.
WE CHERISHED EVERY MOMENT WE HAD WITH HIM
MUCH LOVED AND SADLY MISSED BY DIANNE, DENNIS & JEMMA WHITTINGTON
LOVE YOU KASEY REST IN PEACE.
.
---