VALE
October 22nd, 2011 by Gail
---

AUST CH PENDORIC AFLAME ET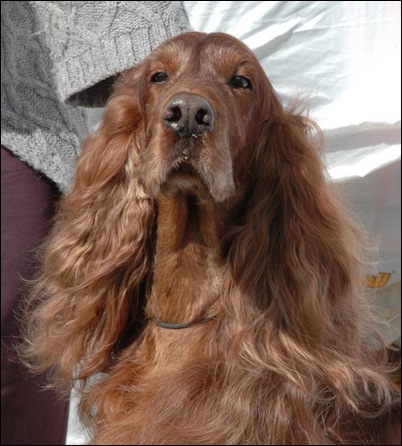 ~Nevada ~
Gr Ch Martinridge Kiss O Fire – Pendoric At Witsend
7 July 1999 – 18 October 2011

.
While you could not speak the words,
I could hear the whispers of your voice.
Telling me it was time to go,
to celebrate your life and rejoice.
You decided it was time to go and
find your resting ground.
You lay down your tired head and
went without a sound.
In my heart I know you loved me,
as much as I loved you.
I pray you've found the peace,
that's helped to see me through.
I thank you for all the joy in my life and
the smiles you've brought to me.
May God guide you on your journey and
may your spirit always run free.
.
… MY SWEET SWEET MAN
Loved and missed by
Sally, Lynton and the Tribe
(Ornac & Notnyl Irish Setters)
[email protected]
Thanks to Leigh & Anne-Marie Hearn (Pendoric) for allowing us the pleasure of sharing our lives with this boy
.
---