Irish Setter PICTURE GALLERY …
---
HAVE A GREAT IRISH SETTER PHOTO TO SHARE?

… send it and share it!
email Gail: [email protected]
.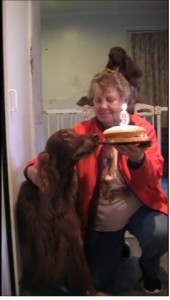 Yesterday was Kyle's (Ch Eirean Frozen Magic) 9th Birthday
photo:   Kyle with Dianne holding the birthday cake
(Dennis Whittington)
.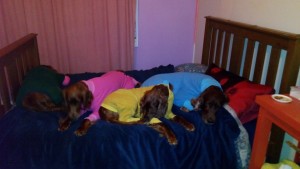 It's cold here tonight, been raining most of the day.
It is really icy when they curl up in tight balls.
It's time for their polar fleece PYJs
Anneliese Riley 
Blaze left his bed at Eildon, so needed to sleep with the visitors
Luckily, Dianne Barbour has accommodating guests!
.
THAT IS ONE HOLE ……. and tunnel!!! 
Cielo's disappearing act….. 
Jan Robinson didn't need an escape route…
.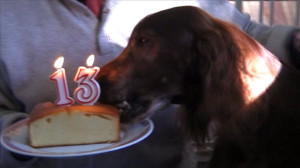 HAPPY  13th BIRTHDAY  Kaine  (Ch Glengray Marxman)
Dianne, Dennis & Jemma Whittington celebrating Kaine's birthday with their other irish setters Kyle, Kasey & Kaileb together with English Setter Kieran
CONGRATULATIONS on a wonderful milestone Kaine!   
LET HIM EAT CAKE
.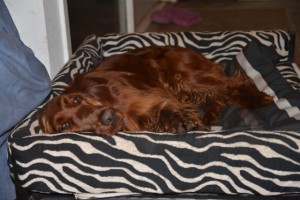 Liza needs special attention …. so steals someone else's bed.   Is she sorry?   No way!
Jan Robinson is amused but wondering where the official owner of the bed is going to go to sleep 
.
HAPPY 8th BIRTHDAY Kyle (Ch Eirean Frozen Magic)
Dianne Whittington makes Kyle's day very special
.
.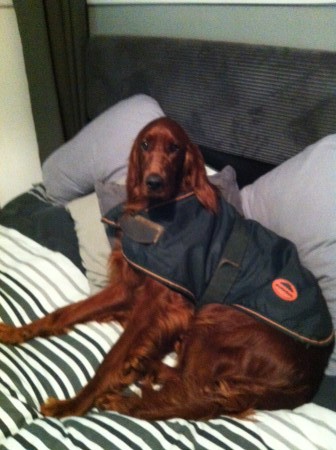 We put a coat on him on cold nights even though he is on our bed, says owner Dianne Barbour
Is Blaze a little spoilt, do you think?
.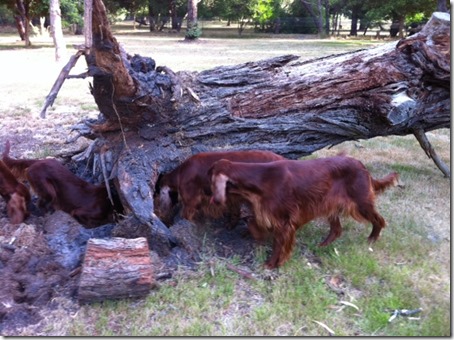 I'm pretty sure they are not truffle hunting
Curiosity gets the best of Jan's irish setters after a huge tree toppled 
(Jan Robinson)
.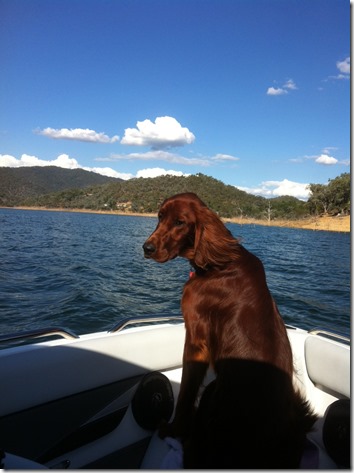 Blaze Barbour on the boat at Eildon
He loves to have a swim off the back of the boat 
(Dianne Barbour)
.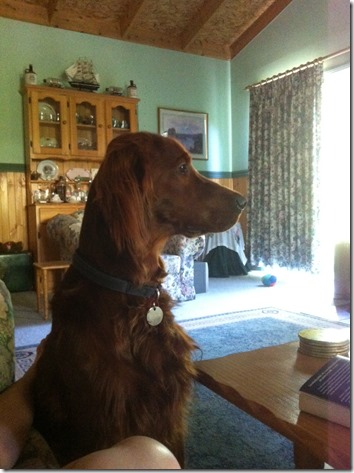 Blaze Barbour likes to watch tennis on the TV
(Dianne Barbour
.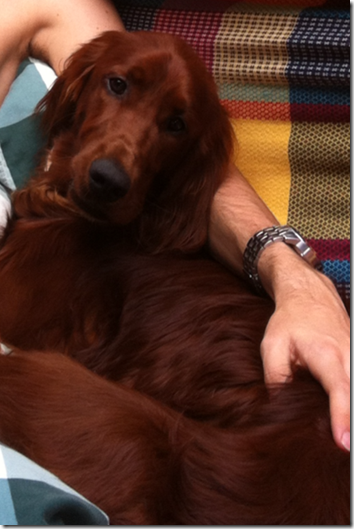 Blaze Barbour suggests we kick back and enjoy the new year!
(Dianne Barbour)
.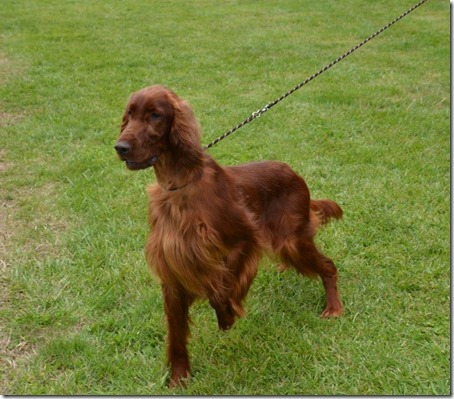 Mahjong awaiting her turn at Lure Coursing….
(Jan Robninson)
Stretching ……It's hereditary!!     Like mother, like daughter
Mahjong (left) is a daughter of Cielo (right)
(Jan Robninson)
.
,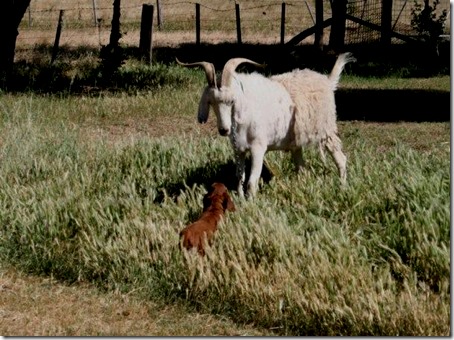 The Big Standoff!! 
a game little fella …… this little puppy isn't scared of anyone
(Sally Underwood)
.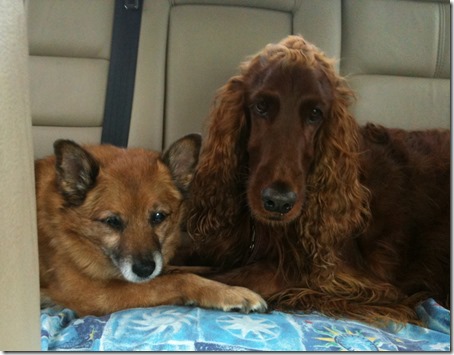 Pretty Scarlett & her friend Harry …..
anyone else think Harry looks like a little fox?
(Kate Hayden)
.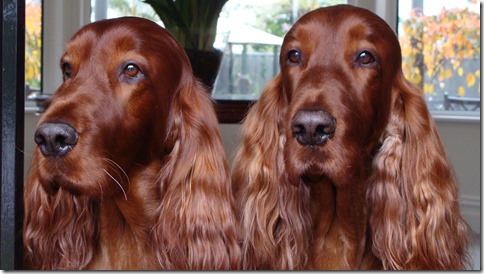 Such handsome dogs  …..
even if I do say so myself

(House & Hugo)
.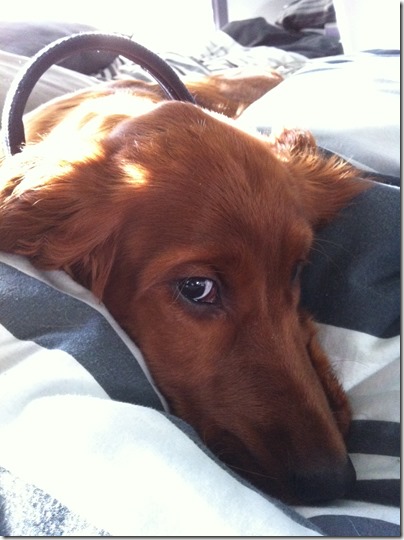 introducing Blaze Barbour …..
new puppy in the house!
(Dianne Barbour)
.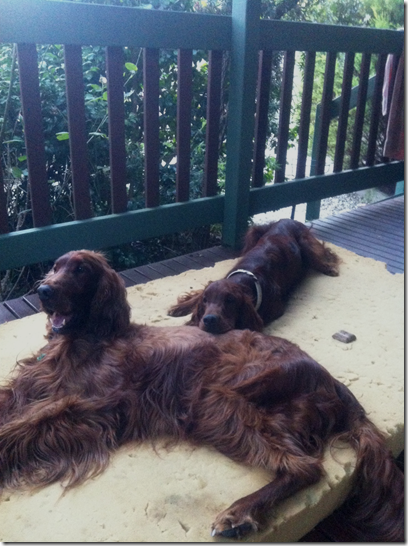 Ryder & Bronte Barbour
~ kicking back … on holidays at Eildon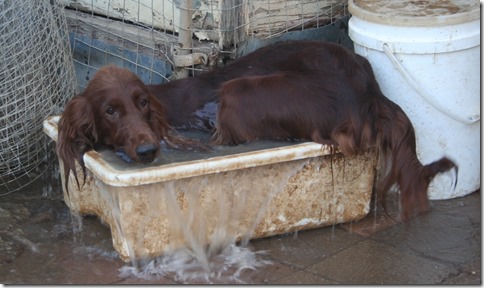 I know I can fit !
Pepper cooling off
(Sally Underwood)
.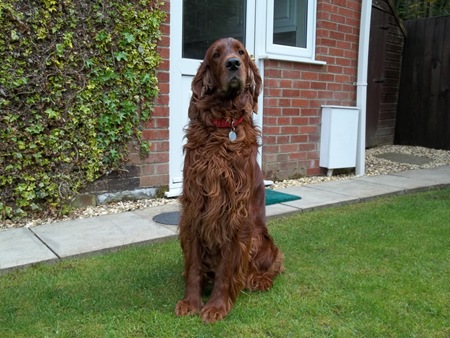 They call me Mr Poser but my name is really Max 
from Sandy Edwards 
.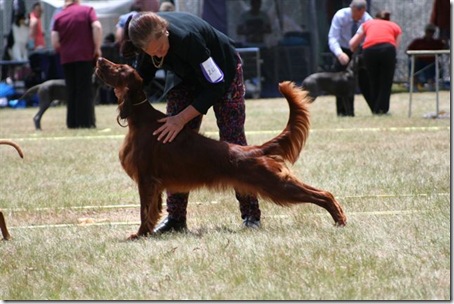 Stand??  I thought you said stretch!! 
Mahjong Robinson trying a little too hard for that "gently sloping downwards from withers" look
.
To all Irish setter lovers – "Happy Christmas"
from Dianne Barbour
.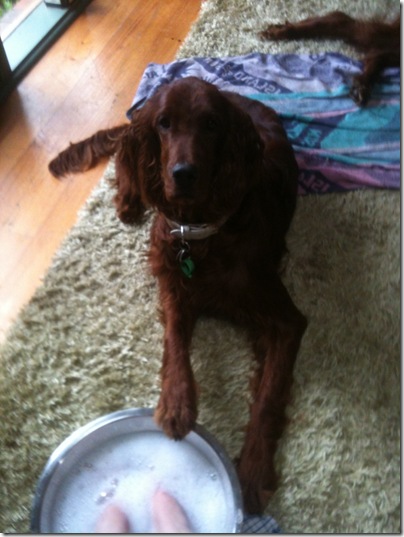 Is this girl a 'Princess' –  or what? 
Bronte Barbour – She would also like to have her feet attended to, thank you.
.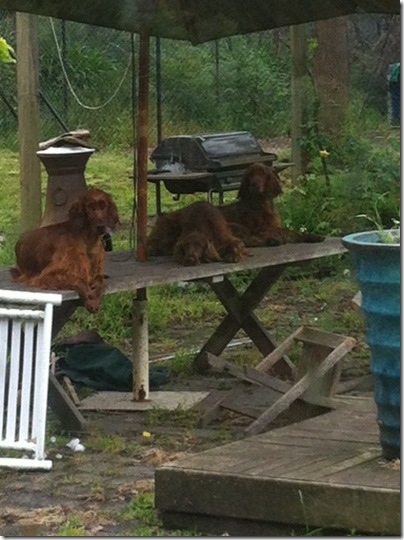 Table Service Only 
~ Liza, Cielo and Mahjong Robinson awaiting service
. 
.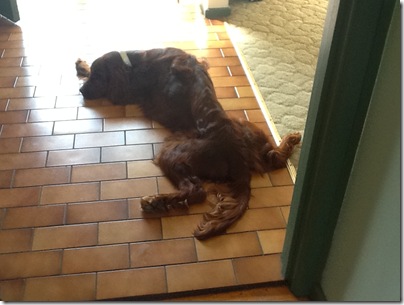 Bronte Barbour
~ enjoying the coolness
.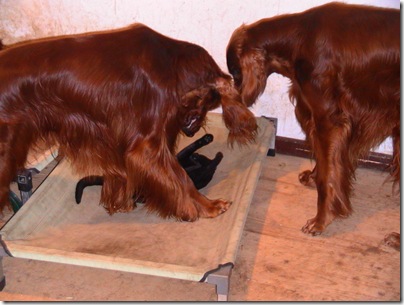 Kaine & Kyle Whittington 
~ harassing the cat Biff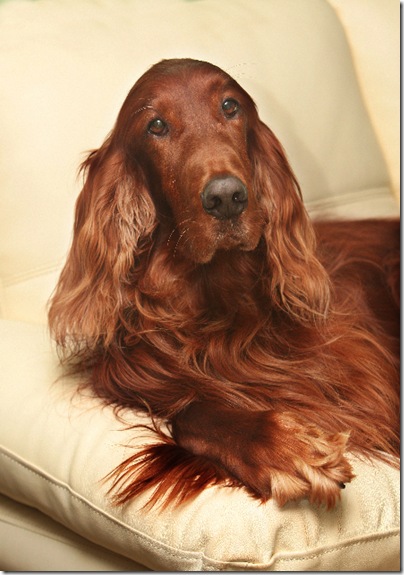 Ryder  Barbour
~ well earned rest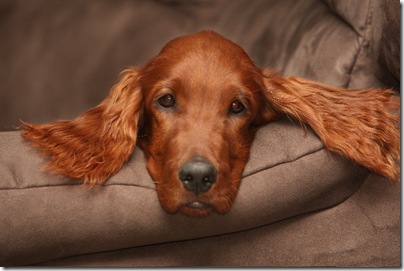 Bronte Barbour
~ all ears
.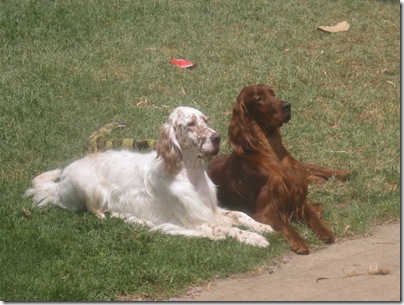 Kasey & Keiran (the English Setter) Whittington 
.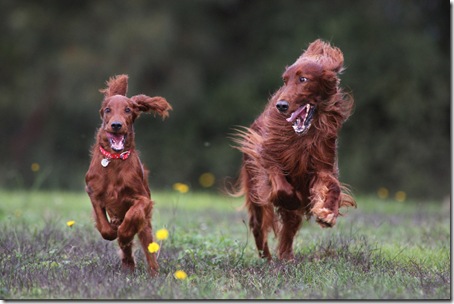 Bronte & Ryder  Barbour
~ first to the post wins!
.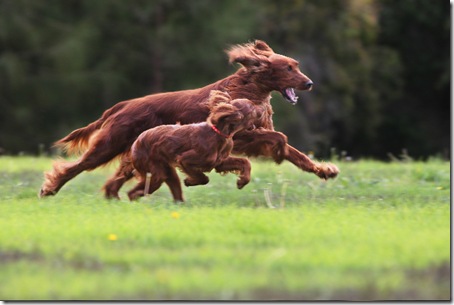 Bronte & Ryder  Barbour
~ the longer legs help get to the post first
.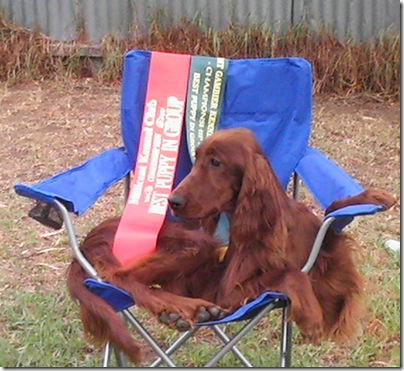 Kyle Whittington – a good day's work at the show
~ waiting for his celebratory drink! 
.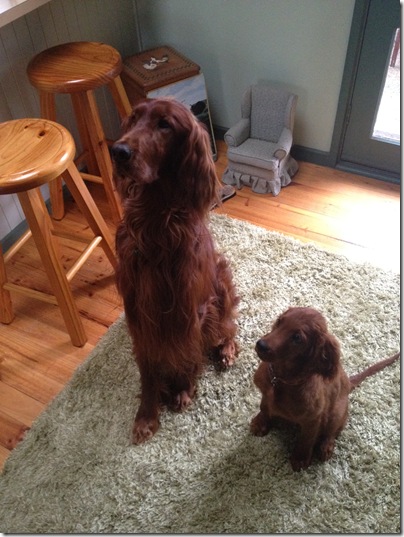 Ryder & Bronte Barbour waiting for dinner
~`~`~`~~`~`~`~
.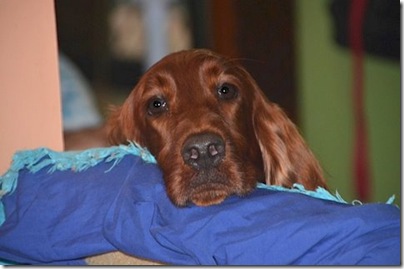 Aren't I just gorgeous? 
Flame Christiansen
~`~`~`~~`~`~`~
.
Aftermath of Christmas 
.. and how families always argue…
ONE DECAPITATED TEDDY COMING UP ..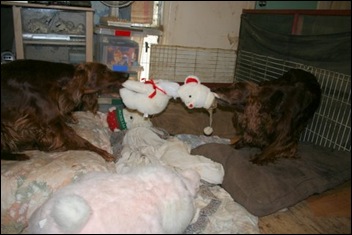 (Father and Daughter – Fidel & Hattie)
WINNER TAKES ALL
Step 1 …. pull stuffing out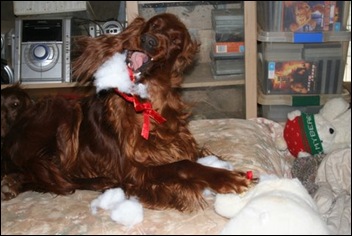 Step 2 …. spit it out
.
~`~`~`~~`~`~`~
.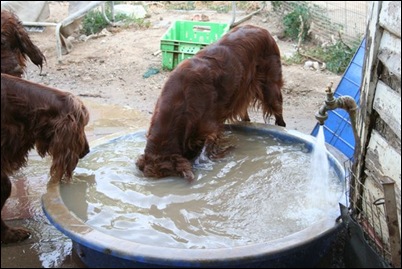 what's down there?  
 Ivy Underwood
~`~`~`~~`~`~`~
.
Guess the number of puppies in there…..
Cielo is taking bets~
~`~`~`~~`~`~`~
.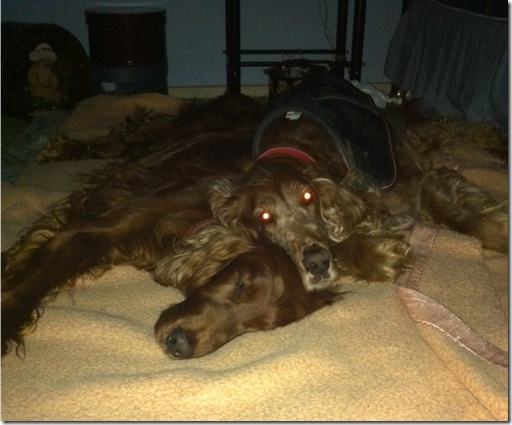 ~ just chillin' 
 Ryder & Rouge Barbour
---