Aust Ch Eireannmada Home Run (Homer)
---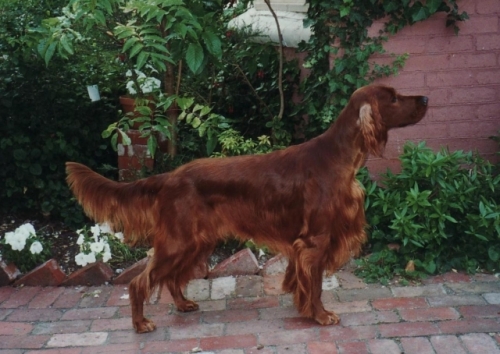 Ch Meadowlarks Energizer (Imp USA) – Calbar Red Elegance
Date of Birth : 24 February 1996 – 24 August 2006
PRA & CLAD cleared.  Hips Score 2:3
Homer was co-owned by David & Gail Cleland & Greg Browne (Eireannmada)
~~~
Homer was our resident clown and will be forever in my soul.  Frequently referred to as "40 kilos of fun", age didn't ever dim his capacity for fun and laughter.  He had an insatiable appetite for life and always displayed his rollicking sense of humour.
.
Jan Malloy (Shalloys) & Ch Eireannmada Home Run  – around 3 years of age
.
He attained his Australian Championship in strong competition, and usually at the larger metropolitan shows,  despite being campaigned in tandem with Grand Ch Eireannmada At Harvard.    Most of his challenge points were awarded by overseas and interstate judges who appreciated his strong and sound conformation.   He had many In Group and In Show awards to his credit .  In fact, he won a diamond drop necklace for me as one of his In Show awards!
…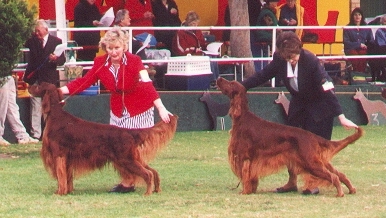 Grand Ch Eireannmada At Harvard Dog Challenge &
Ch Eireannmada Home Run Reserve Dog Challenge
at Victorian Gundog Club Championship Show
It was never an easy assignment exhibiting Homer – he really didn't particularly enjoy the showring.  However he enjoyed playing tricks on both handler and judge;   always having to keep one step ahead of such a character, Jan Malloy (Shalloys) guided him through most of his career.  However, his early puppy exhibiting was passed on to a variety of willing (!) and able handlers – Heather Hunter and James and Jacqui Weekes.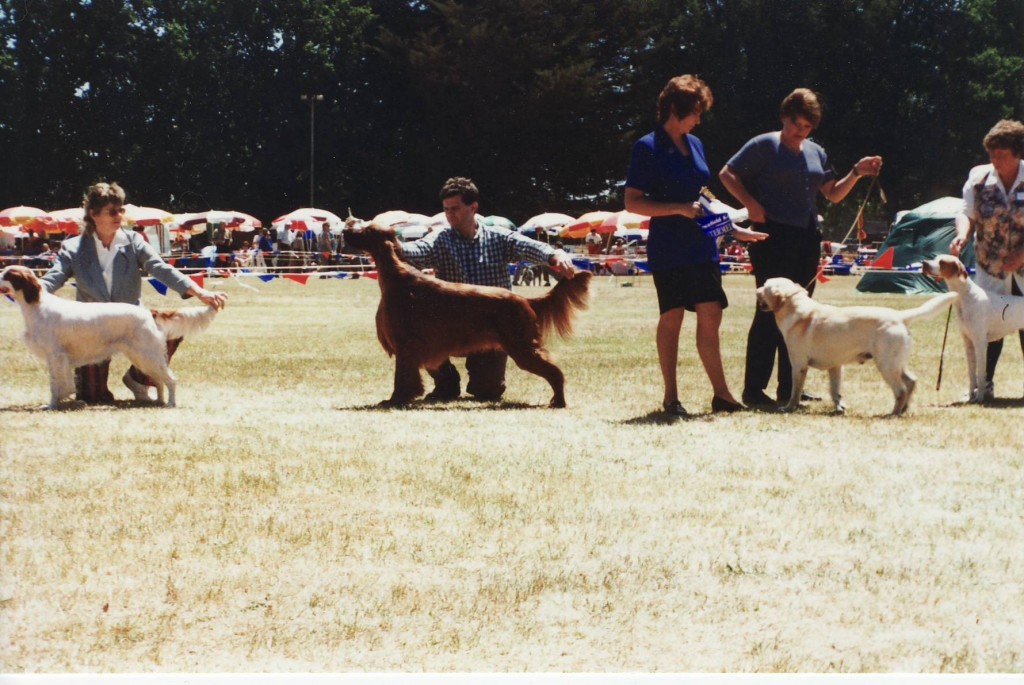 Not happy, Jan!
He has a long list of credits to his name including being featured in a children's book as "Red to the Rescue" (about a rap dancing irish setter!);  he has performed on TV advertisements (sadly, no speaking parts though),  in fashion parades, and on various television shows highlighting the breed…. all of which can be embellished with a humourous 'Ho' story.  He is also famous for being able to hold 4 tennis balls (& one stick) in his mouth at the same time and had a special talent for gathering groups of people (usually children) around him – holding court, making him a star in his very own show.
He was caught shoplifting at the Dog Shop (I was duly given the bill), was a seasoned pickpocket (just ask the man who didn't realise his wallet had been taken from his back pocket) and would mug anybody carrying a bag (once he was referred to as a "thug") … all done with a glint in the eye!
However, I probably miss him the most around birthday times when he would join in the birthday song – which would not always be appreciated -  for my mum taught him how to sing ……… and she's tone deaf!!!
(believe it or not ~ there are 4 balls about to go into the mouth!)
…… a BIG personality!