CLONMANY Irish Setters
We have now had Irish setters for almost 33 years and my love of this breed has never wavered. Whilst there are other breeds I like, when it comes to the crunch, I really can't move away from my beloved "red dogs".
Presently we have 6 Irish ( in order of age)…Zanetta, Zeek. Maggie, Zeena, Flame and Jordie…the majority of whom are pensioners…..lying around in chairs or sitting on people at home.
How we became involved in "showing" is a story on it's own and a real hoot……only I could have been conned like that! However I have thoroughly enjoyed it and have met some great people over the years. We realize that it is a hobby, and as much as I like to win (and believe me, I DO like to win) it is not the most important thing in my life….owning my dogs is. They are part of the family and we don't move them in and out. Regardless of how good or bad a dog is in the show ring ( and we have had some "doozies" over the years) from the moment they cross our threshold they are there for life and we love them. I always say, If I had to I could give up showing. I would miss it, but I could give it up; BUT I could never give up owning my Irish.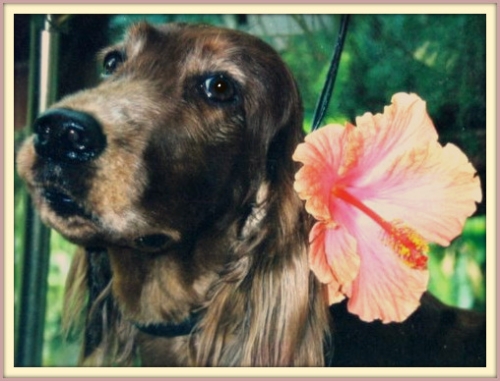 "The Very Brilliant, The Very Beautiful Bridie Buckley"
~~ also known as Ch Taraglen Fine Romance ~~
My first experience with an Irish Setter came when I was about 16. I would sometimes holiday with a cousin on a farm outside of Mackay and they owned "Miss Hattie". I had never owned a dog and instantly fell in love with Miss Hattie who left a lasting impression on me.
Fast forward to 1976: I was now married to "the long suffering Ian". We owned a Siamese cat but I also dearly wanted a dog. Driving home from work one afternoon I saw the sign at a house in the street behind ours. Stop the car! …"Red Setter Puppies For Sale".
Of course they were all the rage back then and we were regularly visited by a male which roamed the neighbourhood. Now I had never seen an irish puppy before and I remember picking up our puppy and walking home with her, wondering whether I had been robbed…she looked for all the world like a golden cocker spaniel! We called her "Zenith" and she went on to become Ch. Khalarnee Kelly C.D. he was sired by Ch Devonaire Amber Admiral from a bitch called Kellerin Christine and went back to the old lines behind most of the dogs of that period. Her most rewarding win was Best In Group under Harry Glover (UK) with strong competition. We also ended up adopting the mother " Larnie" who spent more time at our place than at hers.
Ch. Khalarnee Kelly C.D – Zenith
We'd had Zenith for about 18 months when I saw Robyn Mackintosh's (Karnachan) advertisement for her newly imported dogs, Robalee Kandu and Goldspinner and I knew I just HAD to have something from these two. We obtained the only bitch from the only mating between these two in 1978 and she was called Karnachan Desert Song, known to us as "Zanthe", and she really was a lovely bitch. However, at 8 weeks of age I stood on he left front leg, damaged part of the growth plate and despite 3 operations at the Brisbane University ( where she became quite 'famous') she ended up with a leg 5 cms. shorter than the others and never made it into the show ring.
After that in '80 we took a another bitch from Robyn, who went on to become Ch. Karnachan Humming Bird (Zoe). She was sired by Karnachan Memory Lane using Goldspinner. She was the first dog we ever owned who didn't want to show. The number of times I heard the judge say "Lovely bitch dear, shame she doesn't want to show"……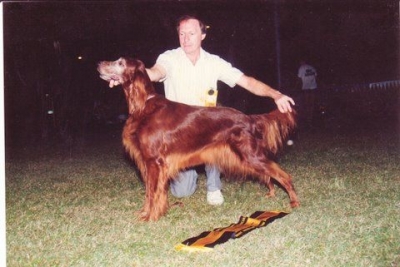 Ch. Karnachan Humming Bird – Zoe
We leased Desert Song back to Robyn and she was mated with Robalee Yank. Zanthe was one of those dogs where "if something could go wrong it did". She ended up having one puppy only, a male called Karnachan Yanke Clipper ( Zhivago) in 1981. As a puppy he survived a mutant form of parvo and was maturing nicely , just a few points short of his title and not yet 3 when we found him dead in the morning. In hindsight, I believe that was our first "Bloat". He had been mated to Humming Bird under our own prefix, Clonmany. Zoe produced 7 puppies (lunch time on Christmas Day 1982 – as only Zoe would do) 3 of which we kept – and then took another back. (You now understand why we don't breed any more, I don't like seeing them go!).
The two boys, Ch. Clonmany Country Magic (Zelman) and Ch Clonmany Crazy Memory (Zeus) along with the bich, Ch Clonmany Crystal Morn (Zara) all achieved group and class in show success. Zeus was used over a local bitch, Ch. Derrymoor Miranda in 1984 and from that we took a bitch, Ch. Tarneden Tarah ( Zenobia) who was also a group winner.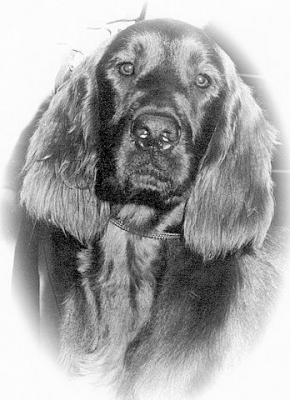 Ch Clonmany Crazy Memory – Zeus
In '85 we purchased a puppy form John Ross in Bundaberg. He went on to become Ch. Inishlarne Magnifique (Ziggy) and was a repeat mating of a successful litter between Aust & N.Z. Ch Fieldmark Lee O'Erin and Ch. Moderhu Zie Abbey. He was the first of our multi Best in Show winners and from limited showing achieved great success. In this period of time we had also had 2 Irish Red and White Setters from Robyn's Karnachan Kennels as she gradually moved away from the 'solid reds".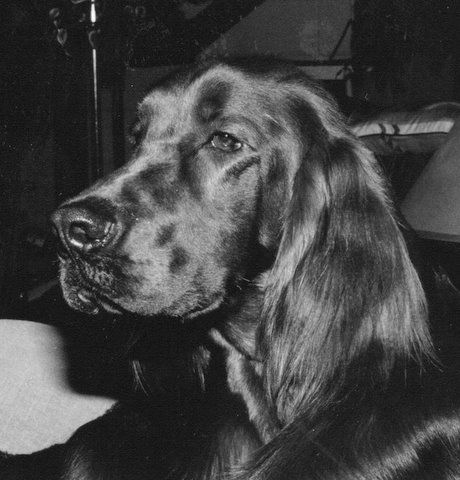 Ch. Inishlarne Magnifique – Ziggy
We then had to look around for a "new" Irish breeder. After much studying of dogs that I liked I approched Keith McCarthy of Taraglen Kennels. What resulted was a succession of dogs and a greatly valued friendship which I cherish to this day.
Our first bitch from Keith in 1987 became Ch. Targlen Olivia ( Zamira). She was from the highly achieving Toccason and Tamsin. Unfortunately, Zamira never grew coat and her success was limited. Ian had seen Seregon Second Coming (Imp USA) at a Brisbane Royal Show and very much liked him so we then took a dog Ch. Taraglen Xanadu ( Zayn). He was from Ch. Shelomith Renaissance and Ch Taraglen La Stupenda, and was a litter brother to John and Eileen Buckley's boy, the big winning Ch Taraglen Xtravaganza. Zayn was a lovely dog, but again a dog who didn't like showing and that limited his success.
At the same time we had Zayn, on one of my many trips to Keith's I brought home a dog, Ch. Taraglen Timon. He was from Ch Grauhund All Thatjazz and Taraglen Te Kanawa. Timon was another muli group winner for us.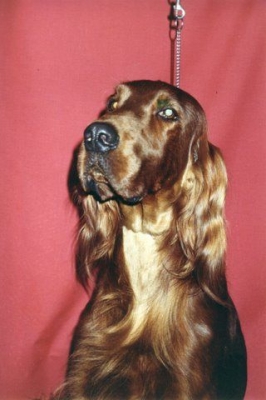 Ch Taraglen Timon – Timon

Our next bitch came in 1994, Ch Taraglen Evening Star (Zindsi). She was from Ch. Taraglen Zamorro and Ch.Taraglen La Stupenda. At 3 years of age she was maturing nicely when she succumbed to inflamatory bowel disease. Despite much battling on our ( and our vet's) part we just couldn't beat it. She was followed in 1995 by Ch Taraglen Game Set Match also sired by Zamorro but out of Ch. Targlen Spectre dela Rose. He was another BIS winner for us.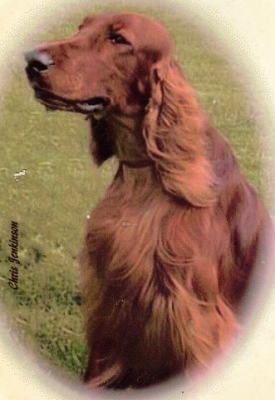 Ch Taraglen Game Set Match
Keith then made the mistake of sending me a bitch for a mating, Taraglen Fine Romance who had been born in 1994 and was a repeat mating of the late Zindsi. I took one look at her and phoned Keith and said, "Bridie is not being mated and you are not getting her back". Her full and correct title to us was "The Very Brilliant, The Very Beautiful Bridie Buckley" (she had come via John and Eileen Buckley). Bridie became the best dog we have ever owned – and still remains the favourite 3 years after her death. Whilst she had success in the ring including Runner Up Best In Show from junior class and had no trouble achieving her title, it was at home where she shone. I'm sure she truly believed that the only reason she had been put on this earth was to please us.
Then followed another big winner, Grand Champion Taraglen Naiad (Zanetta), another multi BIS winner. For me my biggest thrill with Zanetta was winning intermediate class at the Melbourne Royal Show when she was only a few weeks over 18months. She then followed that win up with Best In Group at Kyneton. She went back to Keith for 3 months in our off showing season and achieved more group wins. Unfortunately, Zanetta is another bitch who doesn't like showing.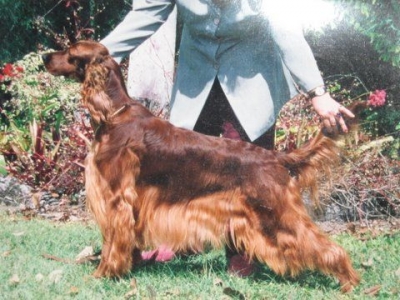 Grand Champion Taraglen Naiad – Zanetta
Our biggest winner of all time followed with Grand Ch Taraglen Tidal Conquest ( Zeek)(Ch Saxonys Evening Tide (Imp USA) – Ch Taraglen Tudor Rose). For us, he is the dog you get once in a lifetime IF you are lucky, and the ONLY dog I have ever owned where I didn't want to change something. From the limited shows available in North Queensland he is a multi BIS winner with over 2,000 challenge points. At 11months he had 95 points and at his first show at just over 12months he achiieved his first Best In Group giving him his
title. He was also Runner Up Top Dog for North Queensland in 2004 and has achieved his Best in Shows under judges of all nationalities. When our limited showing season finished in 2004 Zeek was sitting at No 1 Irish Setter in Australia in the Oz Dog pointscore ( Dogsonline) however finished the year a very creditable No 3 Irish setter ( the shows in southern States of Australia continued during our off-season which meant he was overtaken by year's end). However, he did complete the year as No1 Irish setter in Queensland, No 6 Gundog in Qld and No.19 Gundog in Australia.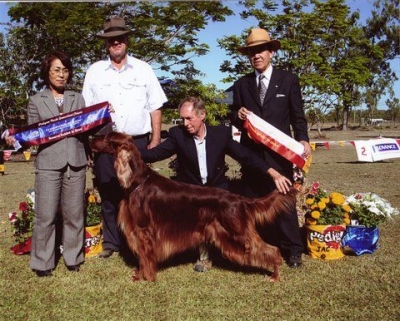 Grand Ch Taraglen Tidal Conquest – Zeek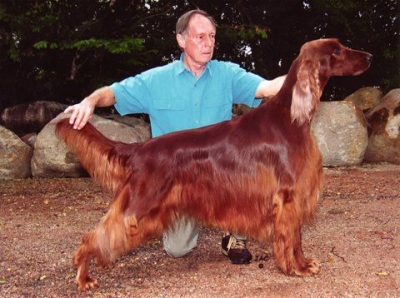 Grand Ch Taraglen Tidal Conquest – Zeek
We were also fortunate to aquire Zeek's sister Maggie, Ch Taraglen Tidal Soliliquoy from John and Eileen Buckley. Maggie rewarded us with Reserve in Show not long after she arrived in North Queensland but she has nearly always been eclipsed by her brother in the ring. Zeek's niece, Ch Taraglen With One Look ( Zeena) followed in 2003. She is from Ch Taraglen Tidal Kingdom and Taraglen Titian Tess, but was unable to emulate the feats of her Uncle Zeek.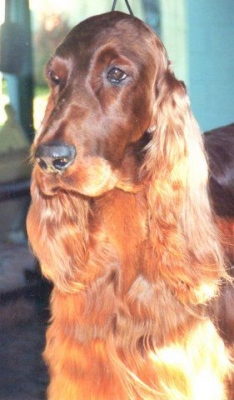 Ch Taraglen Tidal Soliliquoy – Maggie
As Keith McCarthy was no longer breeding, in 2007 we attempted a mating between Zeek and Naiad. Keith very kindly offered to whelp the litter in Melbourne, even though I calculated the date of birth to be on New Year's Eve (possibly in the middle of his dinner …. I figured that would make it easy for him..lots of helpers!) but unfortunately a pyometra put paid to that plan.
What to do? No more Taraglens. An end of an era.. very, very sad.
Edyth Langham-Goodwin's previous Shelomith litter had impressed me when I had seen the puppies at the Melbourne Royal show however, we wanted something immediately.
We were also extremely interested in what Annette and Carolyn Pearen were doing with the addition of their American lines into Highperelle, and with a litter on the ground we approached them. Last year we obtained 2 lovely girls ( litter sisters) from them. First to arrive was Highperelle Yankee Fire ( Flame) followed a few months later by Highperelle Yankee Flame ( Jordie) …I am not even going to attempt to explain the confusion of the names here!…who has just obtained her title. Both girls are sired by Ch Herihunda's Image of Windrose ( Imp USA) who has proven to be a big winner for Annette and Carolyn…….out of Ch Highperelle Dev's Magic who is also full American on one side.They were born 3 December 2007, so hopefully they are just beginning their show career.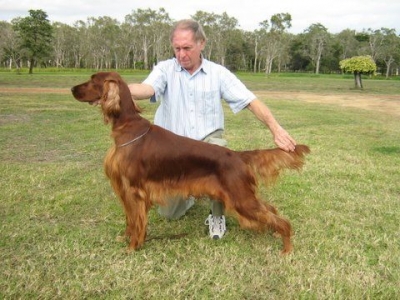 Ch Highperelle Yankee Flame – Jordie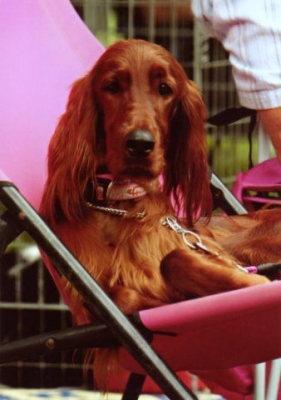 Flame – Jordie's sister taking a break

Many people have helped me along the way, particularly my breeders, Robyn Mackintosh (Karnachan), my much loved friend Keith McCarthy (Taraglen) and also Annette and Carolyn Pearen (Highperelle) who are stepping in where Keith left off.
Standout kindness I remember: ….coming to Melbourne on my first trip in the 1980's and staying a night with Rob & Sandra Mashford who arranged for me to go to Gail Gardiner's (it only took me 25 years to equate that Gail Gardiner is Gail Cleland!) who made me welcome and invited over Greg Browne (Eireannmada) and Marina Scott. Most of that night is a blur of wine, but they made me (as an unknown) feel welcome.
Friendships formed with other Irish owners (plus a couple of ring- ins) with Anne-Marie and Leigh Hearn, Peter Frost, John and Eileen Buckley, Karen Kristoff, John and Di Thompson, Jan and Marty Kooy, Hanne and Ulrick Jerner, Troy Pietzner, Karleigh Hammond…….I could go on and on. I may not have
always agreed with them, but I have always respected their opions and valued their friendships.
Suffice to say, I have thoroughly enjoyed my journey so far, and sincerely hope both myself and Ian still have many years left to continue it!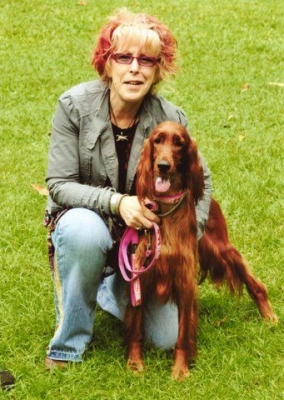 Rosemary Christensen,
Clonmany Kennels,

Townsville, Nth. Qld.
email: [email protected]